Hi guys, long time no talk!  I know, I know…more on that in a later post!  Anyways, let's talk about something fun today shall we??  I FINALLY ran my first Turkey Trot–and I kinda loved it!  I was supposed to run the Holden Road Race last Thanksgiving but it ended up snowing pretty bad and I didn't feel safe driving out to the race so I ended up working out at home.  This year was a different story.
I signed up really late on a whim since I had been pretty sick for the past week but I was starting to feel a bit better and thought, why not.  Then, I immediately sent a text to my friend Michelle (the awesome photographer who took Ashton's recent pics) and asked her if she wanted to join me. You know you have awesome runner friends when they immediately respond in less than a minute with a yes!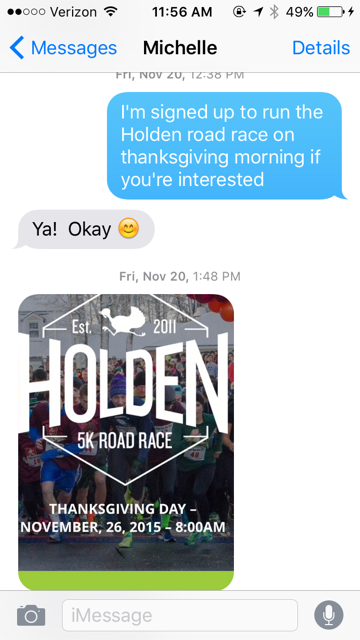 I was on vacation the week of Thanksgiving so that Tuesday I went to our local running store to pick up my race packet, and as usual, this store has their system down to a science and I was in and out in less than 5 minutes with my bib and a few coupons that I will definitely put to good use over the next few weeks!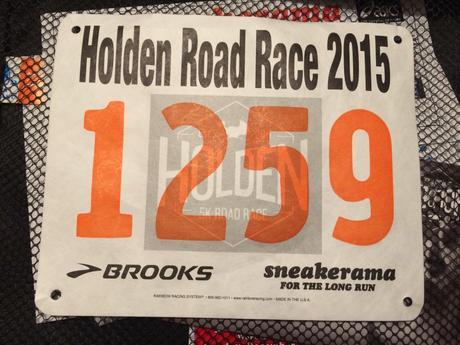 I laid my clothes out on Wednesday night so when my alarm went off, I could quickly get dressed, brush my teeth, wash my face, grab a drink of water and get out the door.  I don't like having to wake up early on my days off, but for running, I will!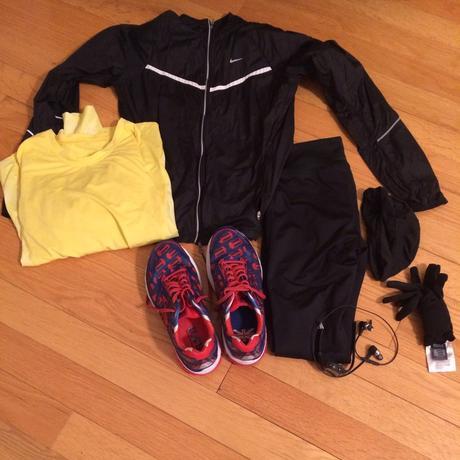 It was COLD when I left, in the 20's (when did I become such a baby with the cold weather running?), but I bundled up and brought an extra layer just in case and headed to pick up Michelle. I got to her house by 6:50ish and we pulled into the race parking lot just after 7 am so she could register and we got our race shirts. We also took the obligatory selfie to send to our husbands.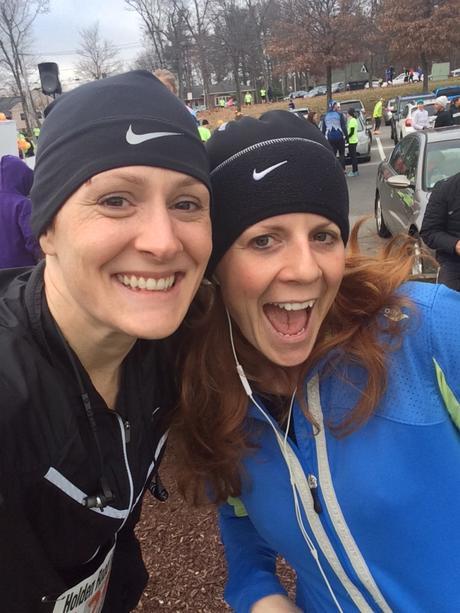 We had to wait around for a bit before the race got started so we warmed up a bit, and found another place to have our pic taken!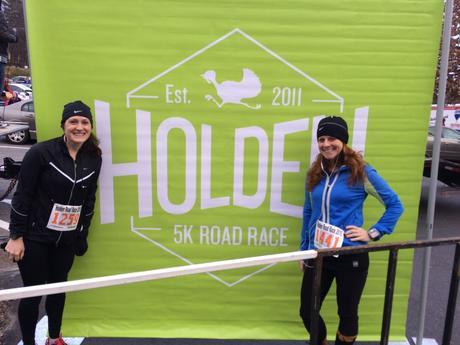 I think you can tell by the look on my face that I was cold, even while bundled up!!  HA!  I contemplated putting on another layer but thankfully decided against it!
We started to line up with 1500 of our closest friends (I was surprised at how big the race actually was!)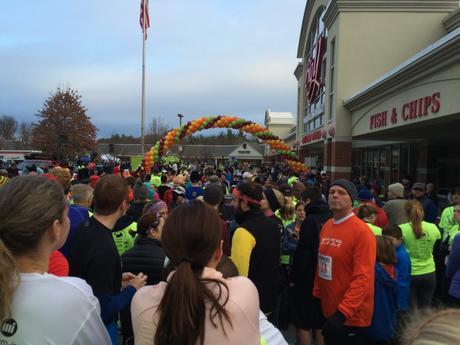 Once the gun went off, we started towards the balloons and I started my Garmin.  As usual, there was a huge bottleneck for the first 1/2 mile.  That was fine by me as I was not trying to PR this race. I have been spending the last few months focusing on strength and not so much running, so my goal was to average anywhere in the 8's and I would be happy.  I quickly found a pace that felt comfortable for me and while there were still a lot of people around, the crowds thinned out more by the mile mark and I hit my groove.
The course went through some beautiful neighborhoods and I loved that there were a lot of spectators and the people who lived in the houses came out to cheer us on. I gave a few young kids high fives and was really enjoying myself.  At the halfway mark I realized I was started to get really hot and was asking myself why I was wearing so many clothes (why do I ALWAYS do this??)  I unzipped my jacket and turned my music up hoping that would distract me…if that didn't work, the hills sure would!  I also didn't realized when I signed up how hilly this course way! Eek!
I kinda zoned out because before I knew it, I looked down at my watch for the first time since we started and we were hitting 2.5 miles and I knew I was close to being done.  Then I turned a corner and what I didn't know was that the finish was all up hill, and not a gradual hill but a "holy shit you have to be kidding me" hill!  I could immediately feel myself slow down and my breathing and chest started to burn. I just kept telling myself over and over, one step in front of the other and that I could slow down as much as I needed to but I was NOT to stop.  So, I slowed down A LOT.  That climb was brutal and then I saw the finish line and gave it everything I had!  I crossed the finish line, stopped my Garmin and went into a coughing fit (awesome, right?!)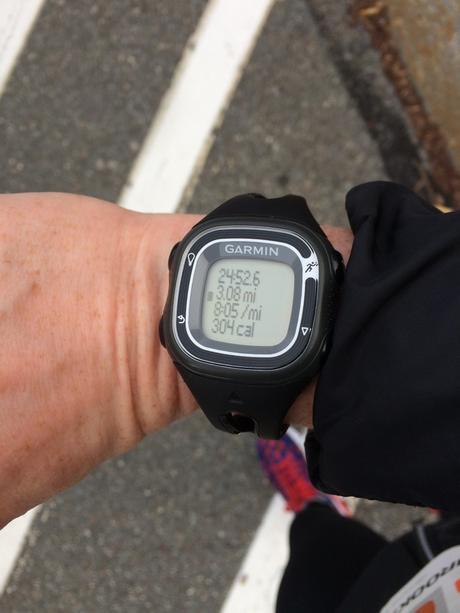 This was followed by shock.  I had only looked at my watch once during the race and didn't look at my time, rather just the distance so I had no idea I was going that fast.  I was running a pace that felt really comfortable to me, which I assumed was in the high 8's.  I was really happy with an overall pace of 8:05!  When the race results came out, I realized, it was actually an 8:00 pace, which was even more surprising!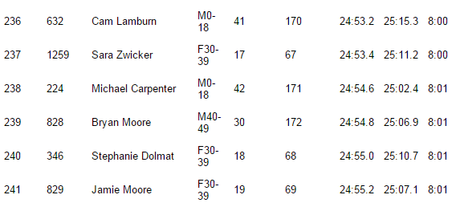 Not a PR for me, but I was more than happy with my time.  After I finished coughing, I walked over, grabbed a bottle of water and walked over to the finish to wait for Michelle.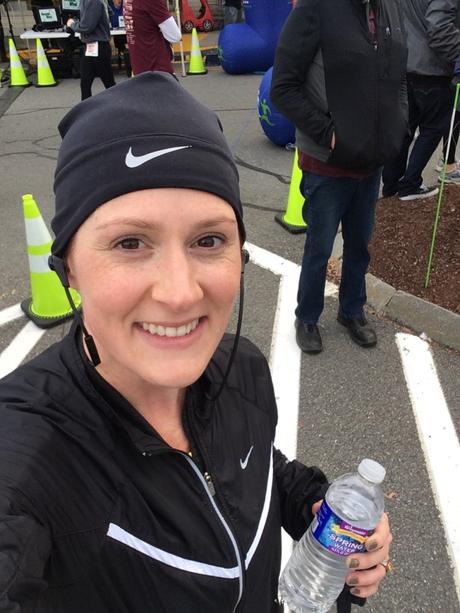 This is when I started to freeze again.   I couldn't find Michelle anywhere, then she texted me that she was over by the bananas! I must have missed her when I went to grab my water since there were so many people hanging out in that area.  I walked over to  meet her and she grabbed a bagel and I grabbed a hot chocolate and then we decided to head back to the car to warm up and get home.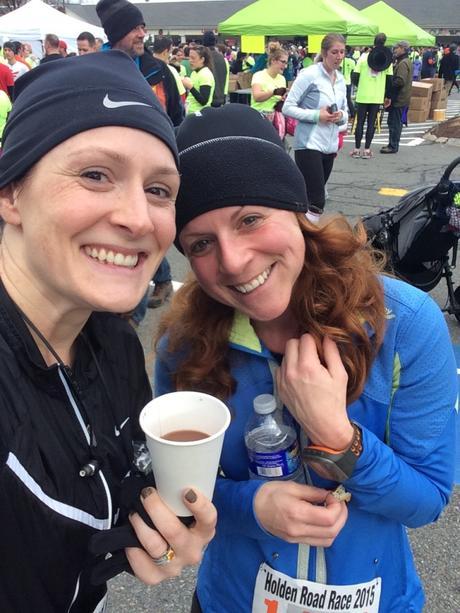 I went into Michelle's house for a few minutes to see some of the redesign work they were doing in their house, chatted with her and Jay then headed home.  I was still freezing and on the chance that Starbuck's was open on Thanksgiving, I swung by one that was on my way home.  Thankfully, it was open. I grabbed a skinny peppermint decaf mocha and headed home to my boys and my Mom where we enjoyed an awesome Thanksgiving together.
Well, that's it friends, my Holden Road Race 2015 race recap.  This was my second race of the year and I am signed up with Michelle to do one more Jingle 5k late in December (the same one we did together last year,) so that will be it for my races this year.  I did sign up for a race I have been DYING to do in 2016..but more on that in a later post!
Have a great weekend, be safe, have fun and get your sweat on!
—————————————————————
Question of the day
Anyone else run a Turkey Trot this year?  How are you all doing?? Tell me something good going on in your life!