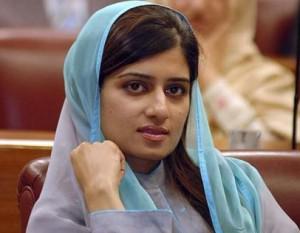 HIna Rabbani Khar could be sacked as Foreign Minister
After Hina Rabbani Khar's alleged scandal of falling in love Pakistan Peoples Party co-chairman Bilawal Bhutto Zardari, the uncertainties have been looming over her endurance as Pakistan's Foreign Minister.
Hina Rabbani Khar's secret relation with the son of Late Benazir Bhutto and Pakistan President Asif Ali Zardari Bilwal Bhutto came into limelight when a Bangladeshi Tabloid Blitz Weekly  claimed that the Pakistan's FM has fallen in love with 24-year-old handsome PPP's co-chairman Bilawal. 
Hina Rabbani Khar, the mother of two daughters, is 11 year older than Bilwal. According to "Blitz," Zardari came to know of the love when he caught Hina and Bilwal in an objectionable condition inside the official president residence. The families of both partners avoided to give any comment in front of media.
Firoz Gul, the millionaire husband of Hina Rabbani Khar, has requested official sources to have a sight on Hina Rabbani Khar's all phone calls and interrogate the truth behind the saga.
The Exeminer.com has reported that Hina Rabbani Khar could be sacked from her office if her relation with Bilwal Bhutto has been proved true. Some initial reports claimed that Hina Rabbani Khar was about to resign from her ministry, but the President Asif Ali Zardari had prohibited her from doing so.
Why newspapers in Pakistan are not giving any space to the love scandal of Hina Rabbani Khar and Bilawal is not yet clear but the smug of secrecy is halting gradually.  Let's wait and see what is going to happen?