A review of the Flam Reserve Syrah 2010 and Boulard Calvados.
By Joshua E. London and Lou Marmon
Washington Jewish Week  -  September 12, 2012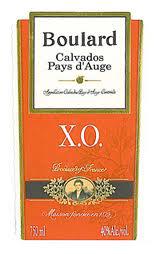 As a general rule of thumb, the High Holidays are neither early nor late but always on time – even when they seem to sneak up on you. Regardless of the actual dates, in the northern latitudes the holidays are in the autumn, whose weather encourages a shift from summer wines to those better suited to this time of year. The brighter, high acid wines like roses give way to wines with earthier flavors and more complexity that compliment both the harvest season and the traditional holiday meals.  
Syrah is an ideal autumn wine. Also called "shiraz," it is perhaps best-known as coming from Australia and France, but it is actually grown in nearly every grape-producing region. Bottled alone or used as part of a blend, syrah is a richly flavored, full-to-medium-bodied varietal whose style can range from big and powerful to refined and graceful. Dark fruit aromas and flavors along with pepper and spicy notes match well with the typical autumn fare and are a pleasant counterpoint to chilly evenings.
 
There are many first-rate kosher options currently available including the elegant Flam Reserve Syrah 2010 from Israel. It begins with floral and dark raspberry aromas that expand into red and black cherry, currant and plum flavors accented with white pepper and licorice leading into a balanced, lengthy finish.
 
The family-owned Flam Winery is located in the Judean Hills, close to Beit Shemesh. Since its first releases in 1998, Flam has garnered both critical and popular acclaim and in 2010 became kosher certified. Winemaker Golan Flam previously worked in Italy and Australia and the patriarch, Israel Flam, was the senior winemaker at Carmel; matriarch Kami Flam has an MBA and acts as their CFO, and brother Gilad Flam holds an LLD, an MBA in business administration and is responsible for marketing and business development. Together they produce very stylish wines under several different labels including Reserve, Superiore and Classico.
 
Spirits-wise, we thought for an elegant and enjoyable change of pace, we'd reconsider a fine premium Calvados like the Boulard Grand Solage VSOP ($50) at the young end, or even, moving up the price and age scale, the Boulard Calvados XO de Boulard ($110), or if price is no object, the Boulard Millesime 1985 ($280).
 
Calvados is basically apple brandy, or distilled hard apple cider, made in the Normandy region of northwest France. Think of it as the working Frenchman's Cognac – though these days prices are keeping pace with that more luxury-branded, grape-based libation. Family tradition is also essential because, frankly, Calvados is a long-term investment game. After you plant your apple orchard, it will likely take at least 10 years before you have sufficient quantities of decent fruit, and then you have to age your calvados for it to show well, often at least 25 years – just to command respectable prices.
 
Calvados is more often than not semisweet with aromas and flavors of apples and other fruits and spices. A young Calvados can be harsh and feisty, like a young whiskey, but, like whiskey, mellows and matures beautifully with barrel aging.
 
Calvados is generally blended from dozens of different apple varieties and is aged in oak barrels at least two years and often much longer. The apple cider, from which calvados is distilled, can be aged for some time before distillation. Some producers insist that distillation should be delayed until the next September harvest, so that their cider receptacles are left empty for as briefly as possible and the cider gets at least 12 months of age, if not more, before being transformed through distillation.
 
There are dozens of varieties of apples grown in the region and used for cider and calvados production. They range from bitter, acid, bitter-sweet and sweet, with the especially bitter types being favored for Calvados production, while the acid and bitter-sweet varieties are preferred for cider. Around 40 varieties are widely used for Calvados, though the appellation regulations allow 50 distinct varieties.
 
Boulard Calvados is among the super-premium end of the quality spectrum. Boulard Calvados comes from the famed Pays d'Auge district of Normandy, considered the finest-quality region because of its tradition of quality apples, refinement and double distillation in alembic pot stills. The Boulard Grand Solage VSOP, blended from 4- and 10-year-old oak-aged Calvados, is an unctuous, heady yet balanced, bittersweet, with hints of almonds, vanilla, allspice and ginger wrapped in a slightly woody box.
 
The Boulard Calvados XO de Boulard, blended from 8- to 40-year-old oak-aged Calvados, is a full-bodied, rich, velvety smooth, spirit with aromas and flavors of apples, almost-ripe pears, toasted nuts, quince, raisins, nutmeg, allspice, caramel, star anise, and citrus fruits with a lovely toasty, oily finish. While the pricey Calvados Boulard Millesime 1985 (the year of distillation, not harvest), is a wonderfully complex, warming off-dry spirit, with notes of wood, apple tart, buttery baked apple, coffee, treacle, licorice, spices, and fresh and toasted nuts, followed by a hint of smoke.
 
Note that there are some who consider all Calvados to be kosher, while others only consider certain brands to be kosher, and some require formal kosher certification. Boulard is officially considered kosher without certification by the Kashruth Authority of the London Beth Din (KLBD), by the Grand Rabbinat du Bas Rhin Beth Din de Strasbourg and by the Consistoire de Paris. As always, those concerned should consult their local or personal kosher food authority.
 
A.J. Liebling, the longtime New Yorker journalist and famous fresser (read "gourmand"), declared in his 1962 food memoir, Between Meals, that "Calvados … is the best alcohol in the world." To Liebling, Calvados, "the veritable elixir of Eden," was much better in every respect to Cognac, which he considered "precocious and superficial" by comparison, even though "millions of Frenchmen are obtuse enough to prefer cognac." In his 1958 book Normandy Revisited, Liebling opined that Calvados "has a more agreeable bouquet, a warmer touch to the heart, and more outgoing personality than Cognac."
 
The list and price of available kosher Cognacs makes Liebling hard to argue with on this. Suffice it to say that if a glass of Cognac is supposed to conjure up images of a visit with French aristocracy, a glass of Calvados reminds one that schmoozing with the hired help is likely to be more diverting.
 
L'Chaim!