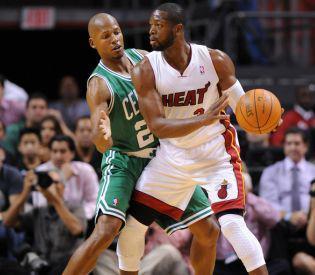 Photo: US Presswire - Steve Mitchell
- Troy Ballard
Can we all have a moment of silence for the NBA players on Team USA that won't be compensated for participating in the 2012 London Olympics?
I would have to imagine that during that moment of silence, a tear trickled down your cheek. After all, nothing is worse than multi-millionaire athletes not getting paid their fair share!
It's not like those gonzo contracts that respective teams pay the All-Stars that are pinned to participate in the Olympics are enough. Those players need some more dough.
After all, if you don't drive the
newest
 Mercedes (and own six of them in all the colors of the rainbow), you will end up taking more snuff in the locker room than Chris Bosh does!
Evidently, Boston Celtics guard Ray Allen thinks that a few more super stars deserve Mercedes, making the statement that NBA players
who participate in the Olympics should be compensated
. And if Allen's star power isn't bright enough for you, Dwyane Wade (a two-time Olympic veteran) agrees with him.
Now, when Wade speaks out -- people usually listen.
However, this will not be the case in regards to paying NBA players that will be heading to London later this year. The reasons, both moral and financial are nearly endless, but I'd like to toss out a few numbers to re-enforce his ridiculous comments.
Here are the salaries this season of every player who was on Team USA in '08:
Carmelo Anthony - $18,518,575
Carlos Boozer - $13,500,000
Chris Bosh - $16,022,000
Kobe Bryant - $25,444,493
Dwight Howard - $18,091,770
LeBron James - $16,022,500
Jason Kidd - $10,121,000
Chris Paul - $16,359,805
Tayshaun Prince - $6,292,135
Michael Redd - $1,308,562
Dwyane Wade - $15,691,000
Deron Williams - $16,359,805
Ray Allen (not on Team USA) - $10,000,000
The majority of these players will be returning this year to London, and as highlighted, not any of them are tight for cash. Financially, every single player that will make Team USA and represent the United States, is sitting on a metaphorical money cloud.
The very last thing that Wade, James, Bosh, Howard, and Paul need is a couple more million thrown in their direction for representing America. While these NBA stars are living the high life and crying about not getting paid more money, there are actually some sports in America that are struggling to raise money to get to London.
And Wade is saying that NBA players deserve to be paid.
Listen, I am not saying that ping-pong is as prestigious as a sport as basketball, but it is still a sport that America is representing! Would a professional ping-ponger (?) demand to be paid money for competing?
If they did, they would have some serious stones.
Apparently having pride in country and representing an entire nation isn't enough for NBA superstars anymore. They've been spoiled by fancy sponsorship deals and waves of fandom generating constant income. It has turned into a 'no-go if I don't see some cash' sort of league. And that carried into
the Olympics
. Unreal.
Wade's comments are out of line for a player who is normally a class act, and it would be best to just push it under the rug. There is no chance that these players will get paid anytime soon, and more than likely, he was just showing camaraderie with Allen.
Either that, or Wade really wants that new M-Class.
Be sure to follow Beard and Stache on Twitter @BeardAndStache, and also Troy @TroyBallards, Like our Facebook page HERE!