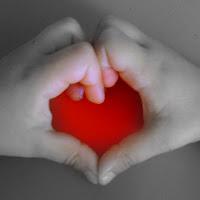 It's no secret that my two daughters suddenly feel helpful when they think something crafty's going on.  While crafting for V-Day, my eldest daughter Mimi came in, leaping about, chatting away about heart-this, heart-that... and then she volunteered to make me one.  I expected paper or crayons, but instead she simply held up her hands in a heart shape.  It looked pretty good, so I asked her to make another one, this time in front of a sheet of red foam.  I took the photo, tweaked it in
picasa
, and can now use it as a Valentines card to put in her memory book.... more on that some other time...
I have to go get my car window fixed after 'the impossible' happened yesterday.
After picking my daughter Lotti up from preschool we went out to the car and she pushed the button on my car-key to unlock the car and let everyone in.  While I was loading her backpack into the boot she must have hit it again and locked the doors (although a couple were still ajar so it was not apparent).  After buckling Lotti and Mimi into their car seats, taking the keys of Lotti and throwing them onto the front seat, I closed their doors, and went to open my door.  I realised it was locked.  A split second later, I realised it was worse than that; the kids were locked in the car on a Summer's day (albeit overcast and in the shade).  Then the problems started...
Problem 1 - because the child-lock was on Mimi couldn't open her door.
Problem 2 - because the keys weren't in the ignition they couldn't open the windows.
Problem 3 - because I keep their harnesses tight and have deliberately never taught them how to undo their seat buckles, they couldn't get out of their car seats, not even by trying to wiggle out between the straps.
Problem 4 - because of the age of the car, the door locks are sticky and even if the idea of manually unlocking the door could work, Mimi just couldn't pull the lock up no matter how hard she tried.
After 45 minutes of a dozen neighbours, parents and teachers trying to break in to get them, the Fire Brigade was called and they tried to break in to the car - turns out it's not as easy as TV makes it seems.  When Lotti started to take her clothes off (we'll never know if it was from overheating or plain boredom) we smashed a window.
I traveled a dozen different feelings in that hour, from frustration, concern, embarrassment, serious concern, number-crunching, a bit more embarrassment, plenty more concern, and then relief and gratitude.
It's all over now, and I'm annoyed at myself for letting the kids fiddle with the keys, not hearing the click, or keeping an eye on the doors before I shut them.  I'm frustrated that emergency-roadside-assist-companies say it will probably take over an hour to attend your emergency.  I'm wondering if it would have been better to get someone to mind the kids while someone else drove me home to get the spare keys.  I'm grizzly about all the vacuuming I had to do to get the glass out of the car (there's more than you'd expect for a small triangle window).  But most of all, I'm proud that my girls stayed calm, tried to help as best they could.  They missed their first ballet lesson for the year, but they were pretty pleased about the story they had to tell.
Oh, but before I go - I have exciting Competition news to share.
 Vicky at Mess for Less just posted the party favours she made for her daughters 2nd birthday - and they included my Fairy Printpaper bag tags - hooray!  Thanks for the shout out Vicky -
pop across and leave a comment on her blog post for your chance to win a set of the papers and the crafty ebook,
and then view the rest of the fairy printables on line at the
Partycraft Secrets Store
.