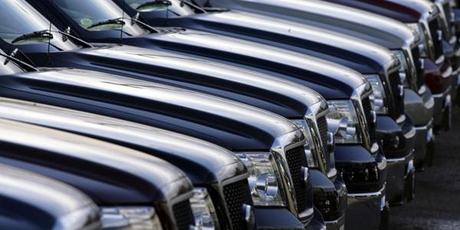 Beware: Not all GPS fleet tracking software is created equal.
It is important that large fleets look for providers that have features that have been designed for large fleets. Many GPS fleet tracking platforms are not able to scale or cater to significant sized implementations. Having a special set of features designed for the size of your fleet will make for simple administration and a better fleet management experience.
Features GPS Fleet Tracking Software Should Have For Large Fleets:
Mass Import/Export: A lot can change on a daily or even monthly basis for a large fleet. Employees come and go, vehicles are moved around or decommissioned, customers can change frequently, etc. So having the ability to mass import and export just about anything is crucial to streamlining your operations. You can mass import/export landmarks, users, vehicles and vehicle groups, vehicle labels, icon shapes, driver assignments, vehicle specs, and more. Vehicle specs include year, make, model, GPH, engine size, fuel capacity, etc. Instead of having to manually enter and change any of this information, fleet management departments can quickly get it done by uploading spreadsheet(s) into the software, either manually or by an automated/scheduled process.
Access & Menu Permissions: The larger the company is, the more employees and departments there are that may use the GPS fleet tracking software. This could include management, dispatch, maintenance, sales, accounting, customer service, etc. The company is probably also set up to have managers for different regions that are responsible for different vehicles. They most likely should not have access to the same information as someone in another department or region. The ability to check off what access and permissions each user is allowed to have is very helpful. If many of the users have the same access/permissions, those can be cloned in just one click instead of manually selecting permissions each time. This option is quick and easy to do, but also allows for control over how the software is used by your employees.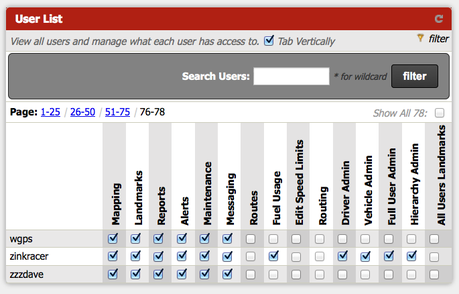 Example Permissions Manager
Overlay KML & Shape Files: It is important to note that advanced GPS fleet tracking companies are expected to have the ability to feed data to/from mapping software, such as ESRI. This data can be seen as overlays to existing maps of either the fleet tracking software or GIS mapping software. They can either be static overlays (visual reference only) or landmarks (dynamic and reportable).
Examples of information that large fleets ask to have overlaid on maps are county boarders, zip codes, map sheets, telephone poles, manhole covers, fiber optic lines, etc. These overlays help give large fleets complete insight into operations and simplify large fleet management.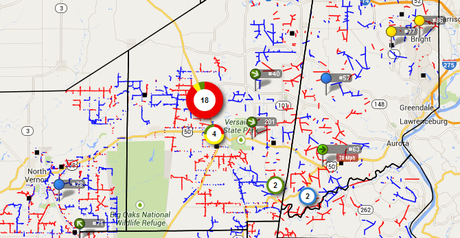 Example Power Lines Overlay on Map
Attributes: Large fleets need to have the ability to easily view information about vehicles or groups beyond the vehicle name. GPS Insight took this to the next level and created the ability to store and view business specific information about vehicles, drivers, landmarks, users, and more. Since you can't expect your team to remember which trucks are carrying certain equipment or which have particular specifications, we simplified this process. Now fleet managers and dispatchers can not only quickly view information for vehicles and groups, but also see which trucks have a 30 ft boom height, which trucks have generators on board, or gate codes at specific landmarks. These attributes can be viewed on a map, filtered, alerted and reported on. This is a powerful feature that makes GPS tracking software more valuable for large fleets. 
Hierarchy set up: A hierarchy capability, if available, is probably the most valuable feature for large fleets. This allows businesses to organize the software based on their company's organizational hierarchy, geographic hierarchy, vehicle type hierarchy, and any other that may apply. This makes it easy to assign vehicles, users, and landmarks to territories, regions, or even job function. It also makes for simple roll-up and roll-down administration of complex alerting and reporting. This feature will make life easier and more organized no matter how multifaceted a company hierarchy may be.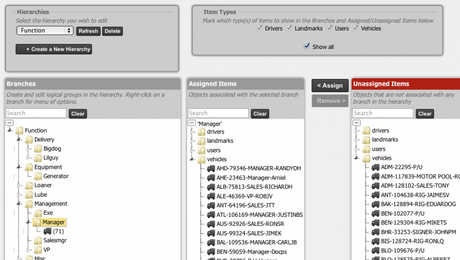 Example GPS Insight Hierarchy Manager
These features take away many of the manual and time wasting processes that large fleets will otherwise have to deal with.
Take these features seriously, because you don't want to select a provider that doesn't have this feature set only to later find out that administration is a nightmare. Do your due diligence and test-drive a few to see which GPS fleet tracking software works best for you.
GPS Insight offers all of these features and looks forward to showing you how powerful they can be for your business. Contact us to learn more.