**This post contains affiliate links and I will be compensated if you make a purchase after clicking on my links.
This will be my 6th month receiving a Book of the Month and I have to tell you that I'm beyond pleased with the selections each month. This month, though, I'm having problems selecting which book to choose – these all sound SO GOOD!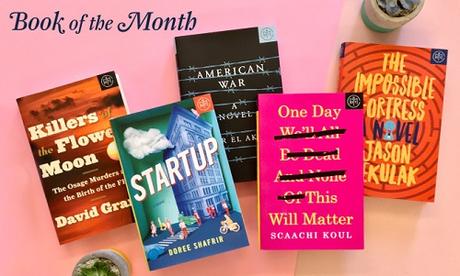 April's Book of the Month
I've read Killers of the Flower Moon by David Graan and found it to be shocking, compelling and outrageous. So I need your help in choosing one of the other four.
The Impossible Fortress by Jason Rekulak | Judge Tyler Coates, culture editor at GQ
A dazzling debut novel—at once a charming romance and a moving coming-of-age story—about what happens when a fourteen-year old boy pretends to seduce a girl to steal a copy of Playboy but then discovers she is his computer-loving soulmate.
Billy Marvin's first love was a computer. Then he met Mary Zelinsky.
Do you remember your first love?
Startup by Doree Shafrir | Judge Glory Edim, owner of the popular blog Well Read Black Girl
An assured, observant debut from the veteran online journalist Doree Shafrir, Startup is a sharp, hugely entertaining story of youth, ambition, love, money and technology's inability to hack human nature.
American War by Omar El Akkad | Judge Maris Kreizman
An audacious and powerful debut novel: a second American Civil War, a devastating plague, and one family caught deep in the middle a story that asks what might happen if America were to turn its most devastating policies and deadly weapons upon itself.
One Day We'll All Be Dead by Scaachi Koul | Judge Kevin Nguyen
For readers of Mindy Kaling, Jenny Lawson and Roxane Gay, a debut collection of fierce and funny essays about growing up the daughter of Indian immigrants in Canada, "a land of ice and casual racism," by the irreverent, hilarious cultural observer and incomparable rising star, Scaachi Koul.
I'm leaning towards American War or One Day We'll All Be Dead but I swear all of these sound so good! And the reviews on Goodreads for each is in the high 4's! Aargh! Decisions, decisions! Help me out Dearest Readers!
If you're not already receiving a BOTM then I hope you'll consider signing up, the April deals are fantastic! This is the deal I signed up for 6 months ago and gives you 3 months of awesome book selections + a very cool, roomy tote for all those books you may drag home from the library and bookstore. Or if you just want to try it for a month to see if you like receiving book mail (and who doesn't?) then sign up for 1 month for $5! Now how cool is that?
Leave me a comment below and tell me which BOTM you would choose! I'll let you know by April 5th which one wins!