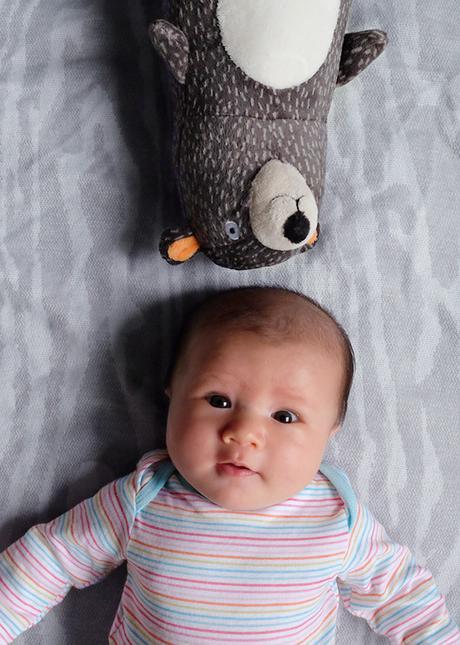 Holy cow! I can't believe it's been 2 whole months since my last post! All the cobwebs clinging to this blog seem kind of festive though with Halloween coming up and all, right? Ha!
Well I have a great excuse for my absence…here's the nugget that's been gobbling up all my time, love, and attention these days! Meet Mia and her BFF Bart the bear, everyone! I know I'm biased, but those cheeks give me life (is that what kids are saying these days??) She's a very alert baby who's already starting to give big smiles and cooing up a storm! Unfortunately her charms are NOT working on Toby, who is coping with big brotherhood simply by pretending Mia doesn't exist at all. He'll begrudgingly say hello to her every morning with a lick on the foot, and then it's nary a glance the rest of the day, even if she's screaming her head off right next to him. Something tells me these two will need a get along shirt somewhere down the road.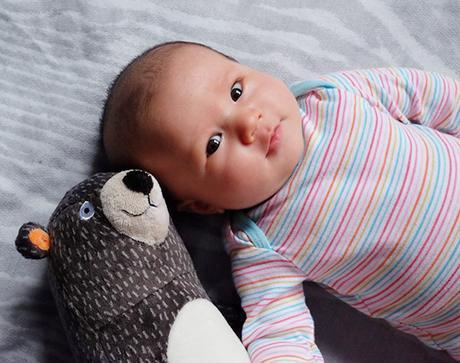 So you know those beautiful portraits of motherhood splashed across Pinterest and Instagram? They usually involve newborns sleeping angelically in pristine nurseries while mom lovingly looks on with perfectly applied makeup and a headful of clean, tousled curls. IT'S ALL LIES, PEOPLE! These first few weeks have been a chaotic rollercoaster that veers between "Being a mom is magical!" and "I'm very very tired. Does this baby come with a gift receipt?" It has been non-stop laundry and waking up at ungodly hours and obsessively checking the baby monitor to make sure everything is okay, and there is absolutely nothing pristine about our apartment right now.
Life sure as hell hasn't been glamorous lately, and sometimes I'm hit with serious FOMO when my childless friends are off traveling or doing fun things around the city. But smooching that chubby little face each day has made me realize that slowing down and savoring these precious moments isn't such a bad idea. There will be time for new adventures someday soon, but for now, I'll embrace the quiet (and umm not so quiet) days at home with this sweet baby who has me wrapped around her impossibly small finger already.