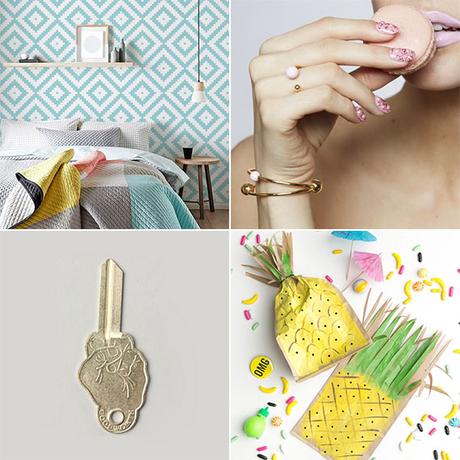 Happy Friday! I'll be spending the weekend catching up with old friends as we gather together for a wedding celebration, and I can't wait to take some crazy trips down memory lane :-) And luckily I came across this ASOS dress that's SUPER comfy (and would totally fit post-baby too!), so I won't be stuck in a constricting dress all night – phew! This week I'm loving…
This geometric wallpaper from PatPrint that's self-adhesive so you won't be covered in wallpaper paste when you put it up
All the out-of-this-world jewelry in Virginie Millefiori's Sun & Moon collection. Bonus points for the awesome styling too!
This sassy middle finger blank key from Cool Material that made me giggle because I'm 10 years old inside
These DIY pineapple favor bags from The House That Lars Built that would be so stinking cute for a Hawaiian themed summer party!