Scarecrow's Garden Log: Fortnight 24:01:2011 to 07:02:11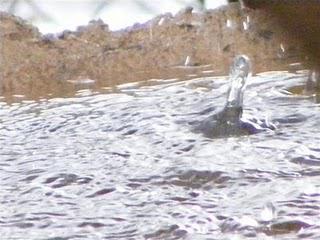 After the heat came rain...
...a lot of rain!


It filled the birdbath!


Temperatures:
Lowest Min 10.4C
Lowest Max 18C
Highest Max 43C
125mm Rain
(that is not a typo!!!!)


What's the weather been like in the garden?


Monday 32.7C, Tuesday 43C, Wednesday 36.1C, Thursday 35.4C, Friday 36.3C, Saturday 38.8C, Sunday 42.5C.
Monday 41C, Tuesday 39C, Wednesday 40C, Thursday 37C, Friday 34.5C, Saturday 21.1C, Sunday 18C
(37.8C=100F)
The heat ended on Friday with torrential rain from moisture fed from Ex-Tropical Cyclone Yasi!


Propagation:




Seeds:


Beetroot Detroit Red Globe

Beta vulgaris

DT Brown
Beetroot Forono

Beta vulgaris

DT Brown
Beetroot Golden Detroit

Beta vulgaris

4 Seasons Seeds
Broccoli Purple Sprouting

Brassica oleracea

4Seasons Seeds
Broccoli Romanesco

Brassica oleracea

Cornucopia Seeds
Cabbage Early Jersey Wakefield

Brassica oleracea


Cabbage Red Choi

Brassica rapa

var.

chinensis

Green Harvest
Cabbage Purple Flowered Choy

Brassica rapa

var.

purpuree

Green Harvest
Cabbage Verona Purple Savoy

Brassica oleracea

The Lost Seed
Cauliflower Self Blanche

Brassica oleracea

var.

botryis

The Lost Seed
Cauliflower Violet Sicilian

Brassica oleracea

Green Harvest
Coriander

Coriandrum sativum

Mr Fothergill
Corn Salad

Valerianella locusta

Phoenix Seeds
Cumin Black

Nigella sativa

The Lost Seed
Florence Fennel

Foeniculum vulgare

var.

azoricum

Phoenix Seeds
Lettuce Crispmint

Lactuca sativa

Diggers
Perpetual Spinach

Beta vulgaris

Phoenix Seed
Radicchio Rossa di Treviso 2

Cichorium intybus

Franchi Seeds (from a swap)
Red Clover

Trifolium pratense

Phoenix Seeds
Rocket

Eruca sativa

DT Brown
Spinach English Medania

Spinacea oleracea

DT Brown
Spinach Bloomsdale Long Standing

Spinacea oleracea

Eden Seeds


Felica amelliodes

Home saved seed
Hollyhock Pink

Alcea rosea

Friends seed
Larkspur Giant Imperial

Consolida ambigua

Mr Fothergill's
Sweet Pea Dwarf Bijou

Lathyrus odoratus

Home Saved seed
Sweet William Mixed

Dianthus barbatus

Friends seed
Viola Large Flowered Mixed

Viola cornuta

Mr Fothergill's


In the Garden This Fortnight: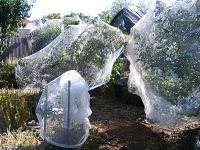 Watering to keep things alive,
shading to keep the sun off
and netting the fruit trees
to keep the birds off.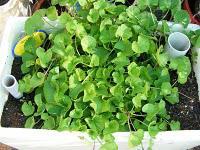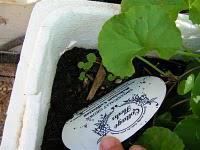 Gotu Kola thriving in it's Wicking Box
and even has some seedlings popping up.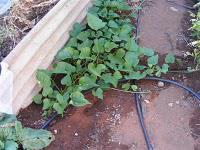 Sweet Potatoes growing at the base of a wicking bed
to catch the (deliberate at times) overflow.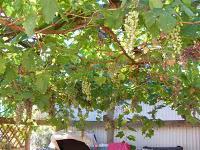 The heat has accelerated the ripening of the grapes
outside the backdoor.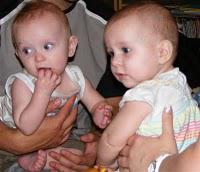 Monday of the second week we had a visit
from our son and his growing family!
Then anxious times as our daughter and son-in-law spent a terrifying night in the "bunker" beneath their house in Far North Queensland while cyclone Yasi raged outside!!!! Fortunately their damage was minor compared to those further north but the water supply has been slow to come back as has the power!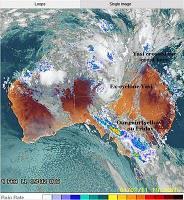 Friday's weather radar (from this site) showing how far the remnants of Cyclone Yasi had moved to the centre of Australia and fed moisture down to us in SA.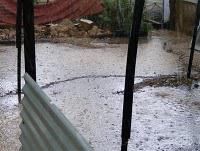 A lot of moisture!!!
(

our driveway!

)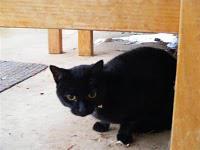 Of course the Black Ninja was not amused...
...she doesn't like rain!


At The Community Garden: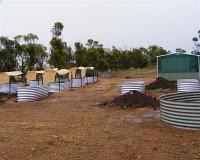 The rain caused only minor puddling
and all drained well soon after!


Weekly Harvest Tally:

Figures for the fortnight!


Doesn't include Greens fed to the chooks on a daily basis or herbs picked for use in the kitchen for cooking or tea making.
Squash Winter Delicata***244g
Squash Sweet Meat***5500g
Tomato Golden Sunrise***1781g
Tomato Kotlas***4119g
Tomato Silvery Fir Tree***1683g
Tomato Yellow Tommy Toe***29g
Tomato Red Cherry***214g
Zucchini Gold***294g
Zucchini Cocozelle***1020g
Strawberries***96g
Blackberries***751g


Eggs


19 From the 5 Farmyard Ferals
4 From the 3 Barnevelders
21 From the 5 Faverolles
To see how the various Garden areas fit on our half acre block check out the newest Map of our place

HERE




You will need to click on the photos to view them.