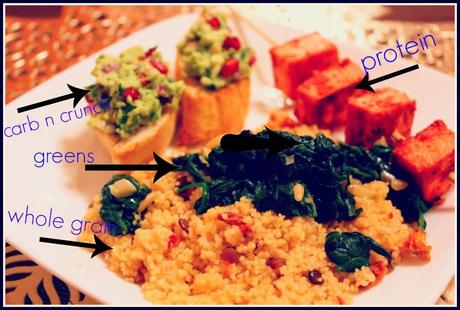 Having to deal with a picky-eater preschooler, it is a prerequisite on my part, that whatever she eats she gets her daily dose of essential nutritients. Whereas breakfast is a rush and lunch is at school, dinner is the ideal meal to get her to eat right and of course in peace.  
On days when Ribhya has a late afternoon class, I end up being time crunched at dinner. On those days I reach out to boxed food helpers and quick sauteed fixes.  Last night was no exception. Despite, I still managed to whip up some quick healthy dinner under 25 mins. 
So while the paneer ( cottage cheese) marinated in a mix of yogurt and this spice,  I cooked this couscous in 7 minutes. Simultaneously I sauteed some spinach with minced garlic in some olive oil, seasoned with some salt and pepper and topped with some pine nuts.....side dish check. 
When this was done, I reused the pan, sprayed some cooking oil and sauteed the marinated paneer. While the paneer cooked in the pan, I roughly cut the avocados, fork smashed it, added some chopped onion, cilantro and pomegranate seeds and finished it with a dash of salt, olive oil and lemon juice. I pan toasted sliced baguette, brushed it with olive oil and spread the avocado over it. The paneer was cooked by the time I was taking care of the carb part. I skewered them carefully and placed them on the plate with other stuff.  
In about 25 mins dinner was ready and served.....
protein- check
greens- check
whole grain- check
carb and crunch- check 
What are your fixes for the busy kind of nights ???
Thanks for stopping by
healthfully yours
SAUMYA