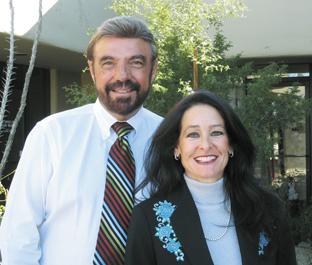 Dr. John Amaro and his wife Dr. Debra Richel 
I had a fascinating experience today. I'm out in Arizona visiting my brother who is recovering from an awful bout of pneumonia that turned septic and threatened his kidneys. I'm thrilled to say that he's doing really well...a combination of my sister -in- laws incredible commitment to cooking the right foods for him, exercise and a fabulous Chiropractor/ Acupuncturist named John Amaro.  who runs a most amazing clinic in Carefree , Arizona with his wife, Dr. Debra Richel.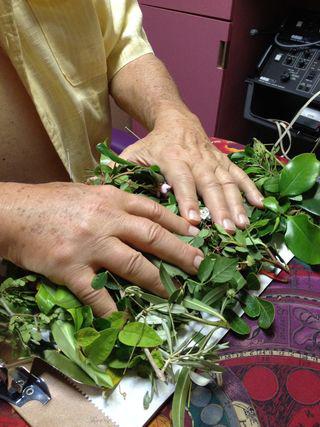 Healing Allergies through Acupuncture
I'm a huge fan of accupuncture having witnessed it's miracles firsthand ( one treatment literally dissolved a heel spur) so I was delighted to find that my brother going to see one on a regular basis. He's reporting huge breakthroughs in his energy and stamina and he says that if the Docs didn't keep reminding him of how sick he'd been that he'd never know it. So about two weeks ago his allergies started flaring up on top of everything else that he was dealing with. Dr. Amaro successfully treated him for them and then for his next visit asked him to bring him a clipping of everything that was blooming and/ or greening around his home. So today my brother walked around with garden shears and filled a gallon size bag with all of the clippings. You'll know that I had to go with him to his appointment to see for myself what this Doc was doing! I was amazed....Dr. Amaro sat him down and spread all of the clippings onto a pillow and put my brothers hands on top of them. Then he placed needles strategically in the pattern called "The 4 gates", a pattern used specifically to relieve stress and open the energies outward. It is a technique for healing allergies and disease that he has used many times with pathogens like black mold to the formaldehyde in new carpets and couches. 
It was amazing to watch and even more interesting to talk to Dr. Amaro about it. When I asked how it worked, he said "I can't really give you a mathematical equation for thinking about this" and I laughed and said "It's the energy?" and he smiled and nodded emphatically!  We spent the next 20 minutes sharing stories and experiences and I watched my brother relax and his energy grow even stronger under this competent care. I'm not sure if any other accupuncturist is treating allergies this way , but   I'd fly to Scottsdale in a heartbeat to have a session with this guy if I ever needed one.
Quite frankly, my brother is getting stronger everyday because of the work that he's doing with Dr. Amaro ;   the traditional physicians are only treating the symptoms of an already broken down system. I was reminded again today just how important it is to approach healing from a standpoint of proactiveness and to honor all of the things that we can't see. There's no real language in our culture to explain the success of Dr. Amaro's treatments, but I know from my own experiences that in many other cultures success is judged by how we prevent disease, not treat it once it's there. If you're game enough to enter into your own healing journey by treating your disharmony with unknowable and perhaps even unfathomable modalities then you're opening up the space where healing can really happen. I can leave Arizona knowing in my heart that my brother is walking his healing journey in the most powerful way possible and with the greatest of allies by his side.
You can contact Dr. Amaro at : 
(480) 488-9647
His offices are located at : 7518 East Elbow Bend Road Carefree, AZ 85377 Picture of Dr. Amaro from the Sonoran News