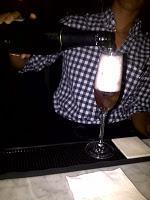 Serving up Mo's Guy
Last night I was meeting up with two of my best friends for a belated birthday dinner.  As North in Armonk is one of the hottest places around, we decided to dine there at 8pm.  If you've been following my blog for a while, you might remember a piece I wrote about my lunch at North this June, and you'll understand why it's worth a second mention.
I arrived a bit before my friends and as our table was not yet ready, I decided to wait at the bar.  I wasn't in the mood for wine, so I decided to order one of their signature cocktails, Mo's Guy.  Mo's Guy is champagne finished off with a few Sycamore Farm's concord grapes and fresh mint.  It felt rather decadent and had the perfect celebratory flair...and it was simply beautiful.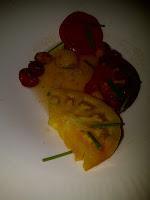 This photo does not do these
vegetables justice ~ and we
had already eaten half...
After we took our table, and talked for nearly an hour before making any decisions, the waiter, upon learning I was vegan, asked the chef to come meet me and talk to me about my preferences, allergies, etc.  Chef Eric Gabrynowicz, former Union Square Cafe sous chef, was charming and friendly and said he'd have some fun in the kitchen putting a meal together for me.
For starters, my friends ordered a tuna tartare to share, and I selected a modified bibb lettuce salad with dijon mustard, agave and sliced pears.  Chef Eric surprised us with an additional appetizer of vibrant heirloom tomatoes with chives in tomato water.  It was colorful and simple and it truly captured the essence of the tomatoes' flavor.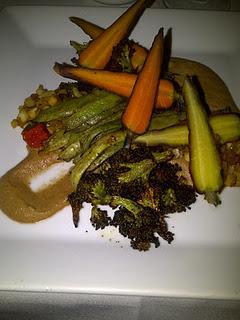 Chef Eric said he'd "have fun" creating a custom
vegan meal for me in the kitchen ~
trust me, the fun was all mine!
When the entrees arrived I was thrilled.  Baby carrots, finely diced root vegetables, roasted broccoli and dragon tongue beans, an heirloom varietal of edible pods only found at I & Me  Farm of Bedford Hills, all over a roasted onion puree.  It was not only quite beautiful to look at, the flavors were sensational!
By the time they brought us dessert menus we were full ~ herbal tea and decaf coffee were enough.  A large table was being seated next to where we were and asked us to make room for them.  I guess they felt badly for making us regroup just as we were winding down, so they picked up our check!  How great is that?
Check out North...it's worth getting to Northern Westchester and seeing what the fuss is all about.