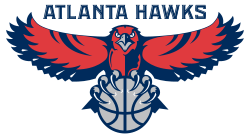 Atlanta Hawks logo (Photo credit: Wikipedia)
It has been reported that the Atlanta Hawks may have violated the NBA's tampering policy. In a letter to Hawks fans and ticket buyers, the Hawks mentioned superstars and upcoming free agents Chris Paul and Dwight Howard, which may violate the policy. ESPN News states that Bob Williams, Hawks president, reported that mentioning Paul and Howard in the letter was an "unfortunate" mistake.
Basically, the letter states that the Hawks organization are overjoyed about this offseason, and the possibilities of acquiring Chris Paul and Dwight Howard are increasing.
The Hawks are a team that is currently rebuilding it's franchise around. With plenty of cap space to sign players, four draft picks, a new coach (Mike Budenholzer), and only three players under contract (Al Horford, John Jenkins, and Lou Williams), the Hawks are looking forward to start from scratch.
Hawks forward Josh Smith is also a free agent this summer, and he plans to test the market for a max contract. With that being said, the Hawks plan to look for a star player to build a team around, and build a core with Al Horford and Lou Williams. With teams like the Indiana Pacers, New York Knicks, Chicago Bulls, and the favored Miami Heat out East, it is only right for the Hawks to shoot for Chris Paul and Dwight Howard, so the Hawks can stay in the playoff mix.
Acquiring Paul or Howard, or both, will be difficult. Chris Paul is currently with the Los Angeles Clippers, one of the elite teams out West. Howard is currently playing with the Los Angeles Lakers, the other franchise in LA. Paul is (and hopefully will be) the franchise player, while Howard is not the favorite Lakers player (Kobe is #1). With Kobe Bryant sidelined due to injury, and with his career dwindling, Dwight can be the star player that the Lakers need to build a franchise around.
Personally, I think both Paul and Howard should stay in LA. CP3 has a great thing going with the Clippers, despite being bounced out the first round to the Memphis Grizzlies. Plus, with the youthful core of Blake Griffin, DeAndre Jordan, and Eric Bledsoe, Paul has a team that he can work with.
As for Howard, I believe that playing for the Lakers is more idea than playing for the Hawks. Although D12 is from Atlanta, I think that the pressure of winning for your hometown team is greater than the pressure of playing for a legendary franchise like the Lakers. In addition, Lakers GM Mitch Kupchak will make the neccessary moves to surround Dwight with the right talent help him win, not to mention Kobe will make a return at some point in this upcoming season.
To conclude, the Hawks may have wrote a check that they couldn't cash with that letter. Mistake or not, the Hawks are now in a "win or bust" situation for next season.