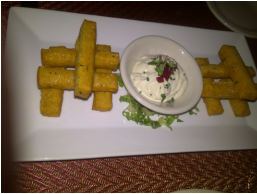 Last Saturday night was a total mess.  Teeming rain and howling wind...and plans with two other couples for a night out!  Style surely fell to function but we did find a delicious haven from it all, Haven restaurant in Pleasantville, NY.
---
Upon arrival, we were treated to sweet hummus served with home baked spinach and tomato tortilla chips.  I had just come off of a 9-day detox cleanse so I wasn't rushing to eat gluten, but I tried the hummus and it had a really interesting texture and nuanced flavor. I also ordered some prosecco, served to me in my very own little bottle...it's bubbly nature and sweet taste were perfect for livening up the night!  And seriously, how cool is that?
We then checked out the menu, which highlighted quite a few vegan options.  I was torn between the puree of carrot-ginger soup with crispy celery leaves and pomegranate seeds and the crispy chick pea fries with spicy remoulade.  Fortunately, I had a great option ~ I settled instead on a salad, but got to sample the fries, pictured above, which were AMAZING!  They were devoured. I think we each could have ordered a platter and licked the plate clean (well, not really...that would be uncouth!)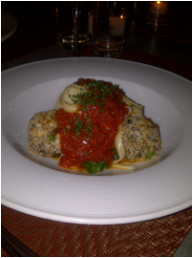 For entrees they offered a vegan ravioli of broccoli, smoked apple and carrot with a sweet pea puree, but what really got me were the black bean "meatballs" over linguini with spinach pomodoro sauce (though I admit I didn't try the noodles.)  They were SO good!  While they were firm enough to hold their shape, they were beautifully tender and flavorful...I was sorry to have finished them.  Even my non-vegan friend ordered them after seeing my reaction and just loved them.
---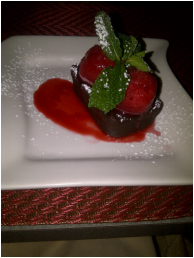 When it was time to order dessert, I was pretty full, but how could I resist ordering the vegan Valrhona chocolate cake with raspberry sorbet?  Just look at it!  I admit it would have been better with some chocolate ganache frosting, but it was an enjoyable, and decadent way to end the evening (and far healthier than what anyone else chose!)  I'll be back...