I have never used Lakme before. True Story. This is the first time, that I ever bought  from Lakme. Offcourse, Lakme is THE staple cosmetic brand for indian ladies, but somehow, I could never buy it, not because I had a dislike for it, but it just didn't happen. 
So here is my first "HAUL" post, and also my first time with Lakme products!
I got myself 3 skincare and 4 make-up products. Starting with skincare, I bought a few items from the Sun Expert Range.
So here is my haul....I will be reviewing each product as I use them. :)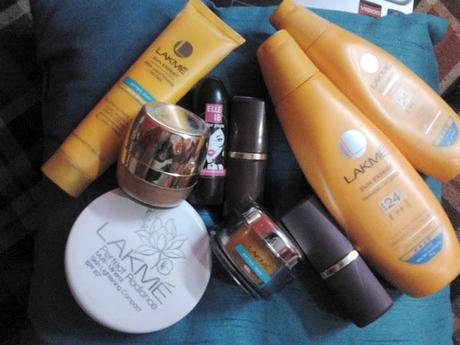 BUYS:
LAKME SUN EXPERT FAIRNESS LOTION - 60ML & 120ML
LAKME SUN EXPERT SKIN LIGHTENING+DE-TAN AFTER SUN FACE MASK
LAKME SUN EXPERT AFTER SUN GEL
LAKME FACE SHEER - EARTH BLAZE
LAKME PERFECT RADIANCE MULTI-MINERAL COMPACT
LAKME ENRICH LIPCOLOUR-CLASSICS - SHADE 154 PINK SORBET
LAKME ENRICH LIPCOLOUR - SATINS  - SHADE 135
ELLE18 COLOR POPS - SHADE 27 ROSY BLUSH
I will be reviewing all these products in my upcoming posts....
.....till my next post!!...take care guys!...xoxo