So a few weeks ago I finally went to LUSH for the first time!  I've been dying to ago for about a year now since I first heard of LUSH and I've never ordered online because a big part of LUSH products are the scents so I never knew what I would like and not like.  I don't have a LUSH in my state so I made a trip to Atlanta to go to a LUSH counter there.  I picked up lots of goodies and can't wait to order more of some of my favorites!
Phoenix Rising Bath Bomb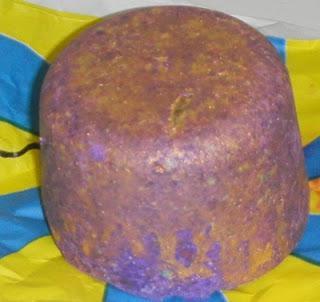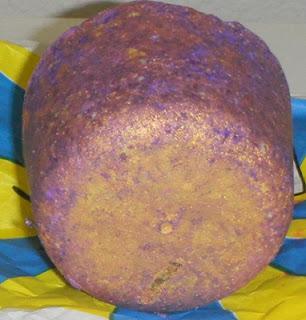 This has a spicy fruity scent to it that smells incredible and the colors are gorgeous!
Big Blue Bath Bomb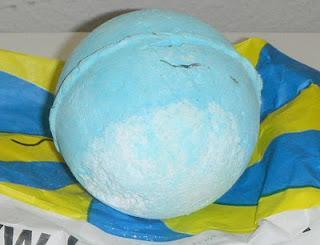 This was actually a sample given to me at check out, it has a light fresh clean scent.  I also got part of the Christmas Eve Bubble Bar that I already used, it turned the water a really pretty royal blue color and the color didn't stain the tub since these products are natural there are no heavy dyes.
Butterball Bath Bomb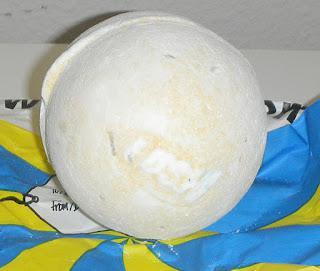 I can't wait to try this bath bomb!  It's made from cocoa butter which is ahhhmazzingg for your skin!
Twilight Bath Bomb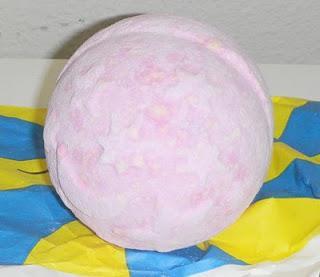 This bath bomb is one of my favorites scents, it has a light lavender scent to it and is suppose to be very calming and relaxing.  I'm saving this one for one of those "so-bad-I-need-a lot of wine-and-a-bubble bath" kind of days.  :)
You've Been Mangoed Bath Melt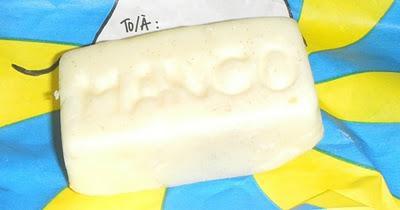 This is one of my favorite products!  The bath melts are incredible they make your skin so soft!  This one has a pretty strong mango scent to it so if you're not a fan of super strong scents you may not like this.  I actually bought two of these because they were so small and the first one I cut in half and used for two baths and my skin felt so soft afterwards.
The Comforter Bubble Bar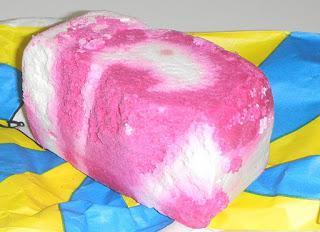 I've already used half of this bubble bar and loved it!  It has a sweet candy smell to it and turned the water a hot pink color but it didn't stain the tub or anything.  I tend to prefer a lot of bubbles when I take baths so I recommend using a whole bubble bar for that, half of this made a good amount of bubbles though.
MMM Mallow Marshmallow Moment Bath Melt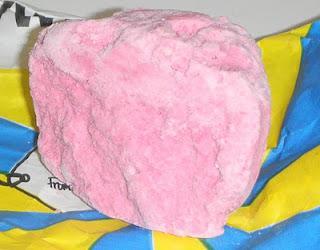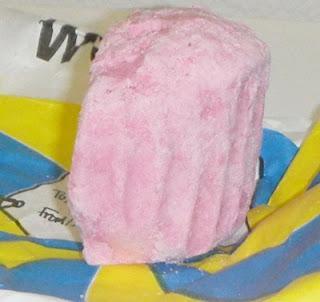 This is another one with a sweet candy smell to it, I only used half of this melt but with this one I placed it under the running water and it made the bath really foamy almost like bubbles.
Cinders Bath Bomb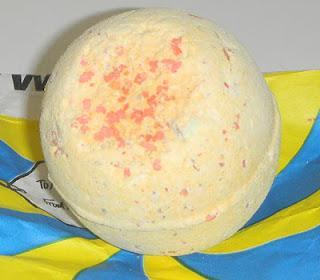 This is one of LUSH's most famous bath bombs.  Cinders has pop rocks on the top of it so when you put in the bath it sounds like a crackling fire. :)
Creamy Candy Bubble Bar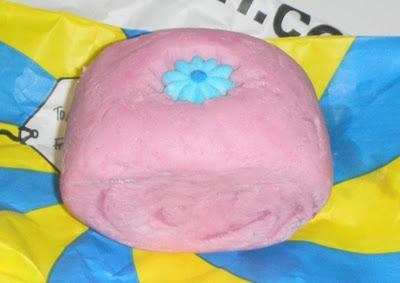 Yet another sweet candy scent from LUSH!  This bubble bar is just too cute!:)
Heavanilli Massage Bar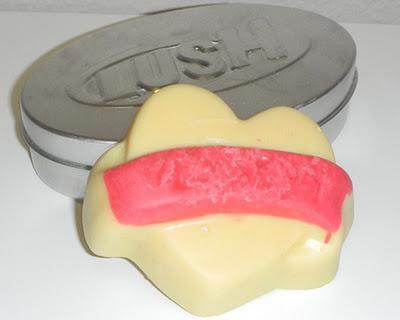 This is a solid lotion bar that you rub over your arms and legs, it has a really nice vanilla scent to it and makes your skin so soft!  When you start to use it it gets this kind of melty feeling to it and it just smooths over your skin.  These need to be purchased with a LUSH tin though so they don't melt where ever you leave them.
LUSH Dream Cream, Glogg Shower Gel, Snow Fairy Show Gel, and Bubble Gum Lip Scrub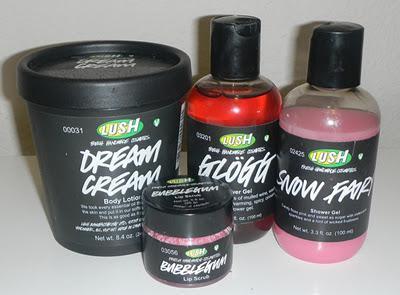 Hands down Dream Cream is one of the best body lotions I have ever used!  Dream Cream has a lot of hype surrounding it and it's well deserved- it sinks into your skin and leaves it feeling so soft and moisturized.  The scent isn't anything spectacular but the product is so good that I don't mind that one bit. :)
Glogg was given to me as a sample and is said to be good for hangovers(ha ha) or just those morning you can't wake up.  It has a strong, warm cinnamon scent to it and isn't one that I would've picked myself but I'm glad I got it.
Snow Fairy is another famous scent from LUSH however I wasn't really blown away by it. I do really like it but it kind of smells like bubblegum flavored medicine.  What I do love about it is that when I get out of the shower after using this my whole bathroom has a warm bubblegum smell to it that isn't like medicine at all.
I have been dying to try the lip scrub from LUSH forever and it didn't disappoint.  I absolutely love it!  I actually bought two of these, both bubblegum flavored.  It exfoliates your lips really well, tastes just like bubblegum, and leaves your lips feeling so soft.  It's a great product to use before applying any kind of matte or nude lipstick.