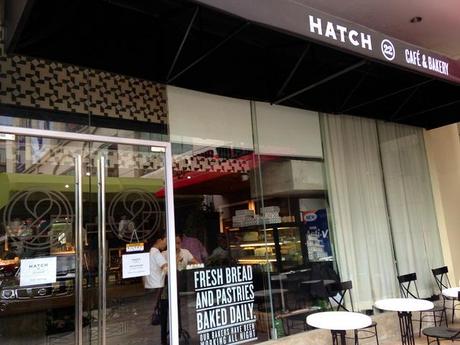 Facade outside Powerplant.
Is it a bar? a bakery? a café? Yes, yes and yes. Alvie and I were fortunate to have been able to attend a media event of this fine new establishment at Rockwell. The term Catch 22 is often used to describe problems to which there are no solutions. Hatch 22, on the other hand, might very well be the solution to any kind of problem, serving all-day breakfast and great food for any meal needs, coffee to give you a jolt, and a wide array of drinks for when you just want to forget your problems altogether. Haha.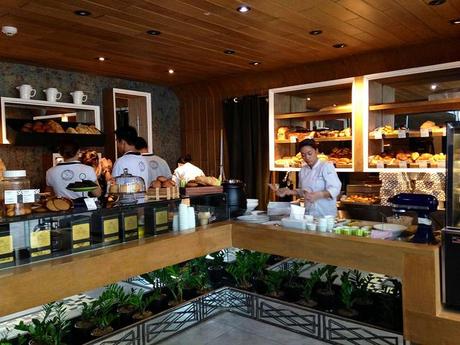 The Bakery
We were welcomed by sweet smells of delicious bread and pastries and the sight of a kitchen hard at work. Further in, we settled in at our table and waited for the event to start. Not too long after, we started enjoying the coffee, drinks and food they had prepared, and owner Erwan Heussaff and chef Pete Ayson gave us a brief introduction to the restaurant's concept and philosophy.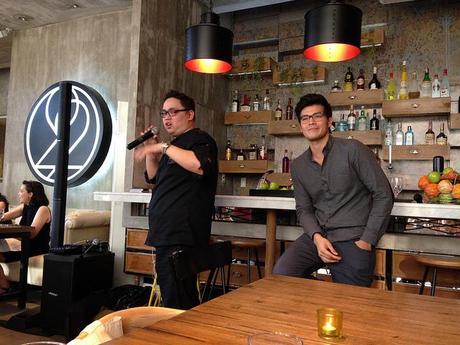 Chef Pete Ayson and Erwan Heussaff by the bar.
What ensued after was pretty much just eating, enjoying the company of our table companions from When in Manila, drinking, and more eating.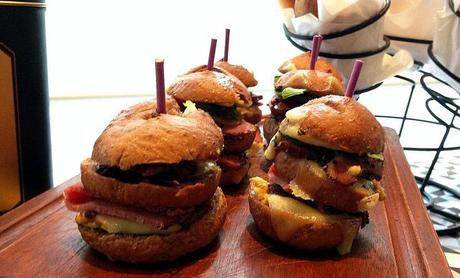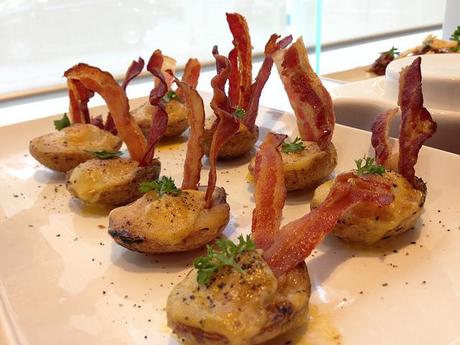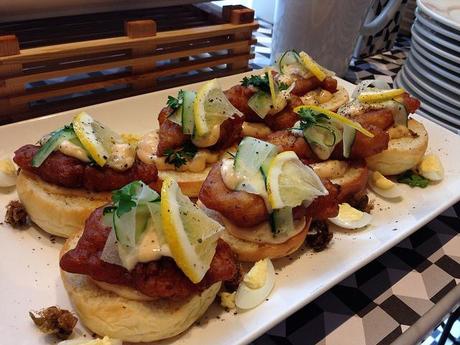 Cute, tiny pieces of food, huh? When I saw all of them, this was running through my head...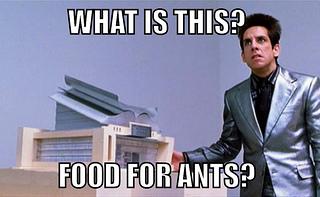 Man, I miss that movie. Haha. Kidding aside, Hatch 22 thoughtfully created bite-size pieces of all their best offerings so that we could try more of their dishes! Clever. These new tiny versions of the food were so well-made that many were asking if they can regularly serve it in this size, but alas, they do not. I hope they consider it though. It makes food so much easier to share, and also makes you feel like a giant. :)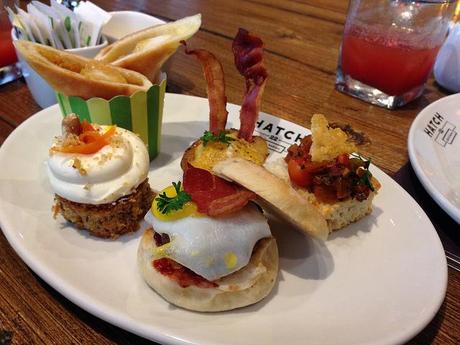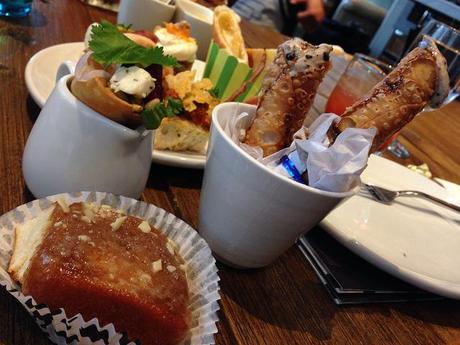 More miniature food! We can definitely say the Hatch 22 has
good
 food. Not just because they have Eggs Benedict and the ever-elusive Italian dessert, Cannoli, but because all the food is noticeably of good quality.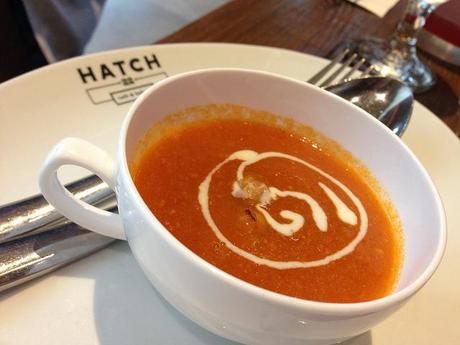 Tomato and Chickpea Soup, P185.00
Roasted tomatoes, mixed bread croutons, chickpeas, lucban sausage and fried basil.
I don't think it's just because I love tomatoes and garbanzos. I really liked this soup! Perfectly flavorful and very addictive. Not sure if this is the actual size of an order. Haha. We also got to take pictures of some actual-size dishes.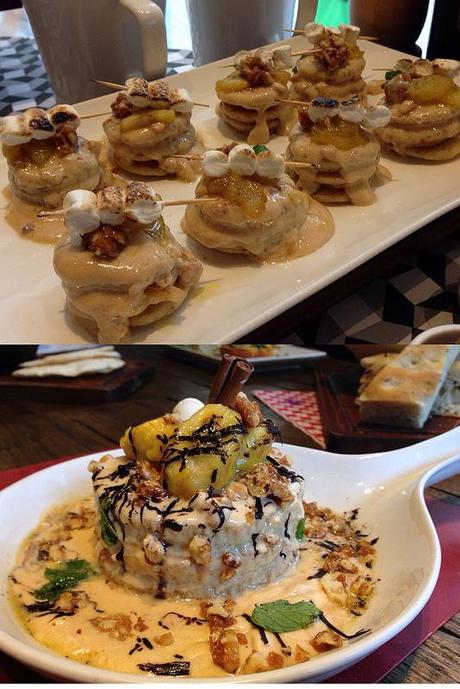 Monkey Business, P430.00 (to add a shot of Myerss Rum, P75.00)
Caramelized bananas, chunky peanut butter, candied walnuts, buttermilk pancakes, cinnamon and caramel.
I liked the tiny stack of pancakes. It was so sweet and creamy. Not sure what my guilt would be like after eating the actual-size stack of these decadent pancakes, but I'm sure it'll taste quite good. Perfect for a cheat day. Haha.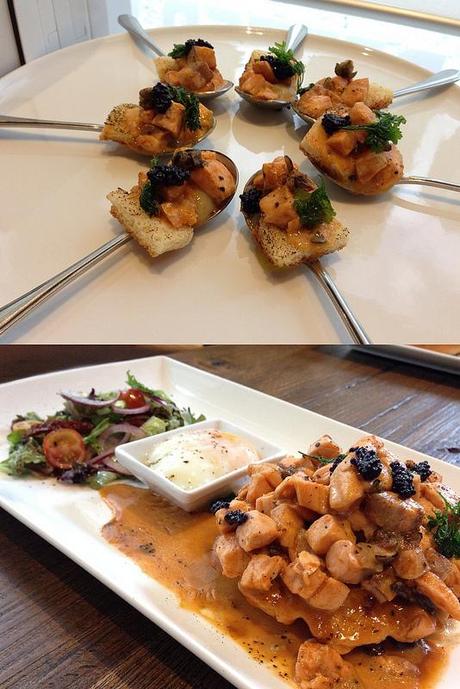 Croque Maserati, P580.00
Open faced brioche french toast, seared salmon fillet, sous vide egg, mornay sauce, lemon thyme oil and black caviar.
I'm not really a car enthusiast, but when I hear the word Maserati, a plate of salmon is the last thing that comes to mind. Guess I"m really just clueless. Haha. I'm not sure I was really able to taste what this dish is all about from the spoon I had, but I can say the salmon was good and gently flavored.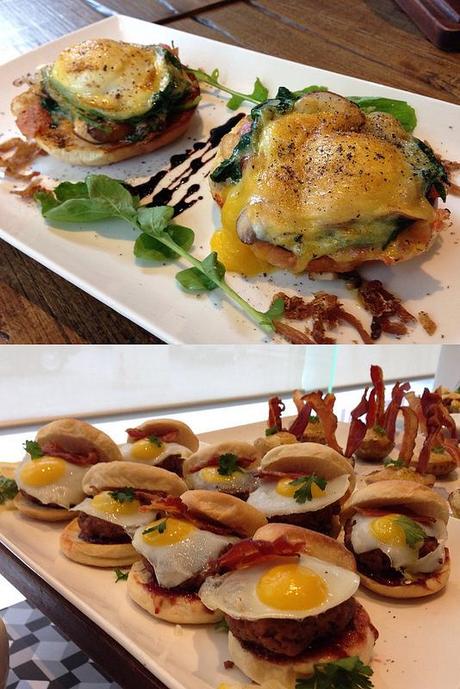 NYOB (Not Your Ordinary Benedicts), P445.00
Fresh baked rustic muffins, wild mushrooms, sous vide eggs, Italian ham, sauteed spinach and torched citrus hollandaise.
The tiny eggs benedicts fascinated me because they looked so much like Trolli burgers. Haha. I liked it, but it doesn't seem nearly as good as the normal-sized NYOBs. I guess making the quail eggs perfectly, sloppily poached is an impossible task. I want to go back and try it! On second thought, I'm not even sure these tiny burgers are the same dish at all. Maybe I got it wrong. :)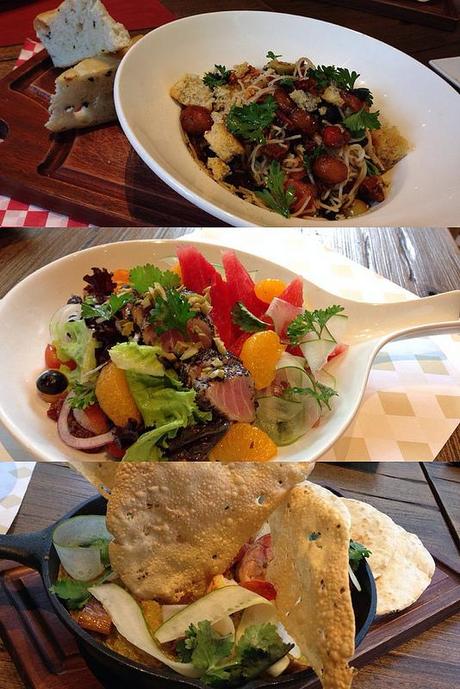 More pretty food! I got to try a bit of the salad in the middle and the fish was gooood. Of course that afternoon wasn't all about food.. there were lots of drinks too!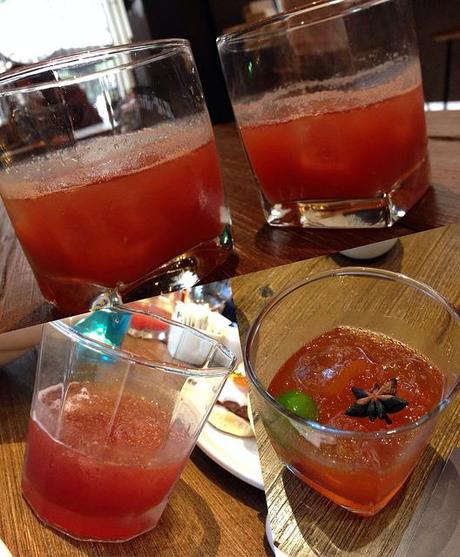 Port Wine Sangaree, P270.00 (top)
China Man, P260.00 (lower right)
Ruby port, Lemon, Cherries, Nutmeg, Cassis, Syrup.
The Port Wine Sangaree, we really quite liked. It's a type of sangria which isn't too bitter at all, and offered very good sips to go along with our meal.
Green Team infused Rum, Lime Juice, mint leaves, shiso leaves, ginger lemongrass syrup.
This was quite literally a champoy-flavored drink. It was tolerably interesting at first and wow, what a kick of flavor. Nearing the bottom half of the glass, though, the champoy flavor was too strong for me to take. Haha. I imagine this is perfect for people who love champoy and alcohol.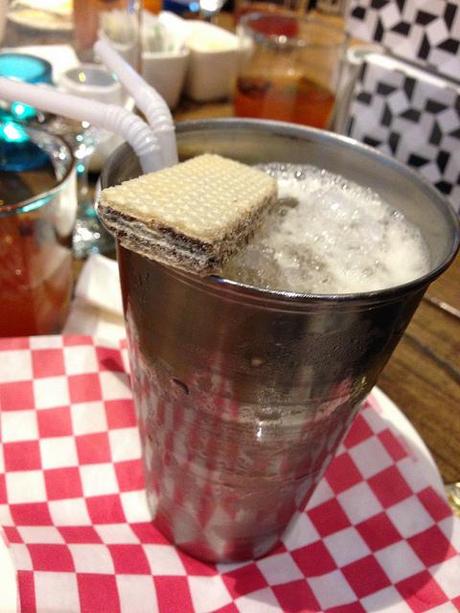 Inner Child, P290.00
Horchata, Almond Milk, Egg White, Dark Rum, Spiced SyrupI really like Horchata (a Mexican rice drink), so it was difficult not to try this one, especially being the alcoholic-sweet-tooth that I am. :) It was a bit too strong for my taste, but then again, for me, a lot of drinks are, so don't take my word for it. I enjoyed the sweet taste.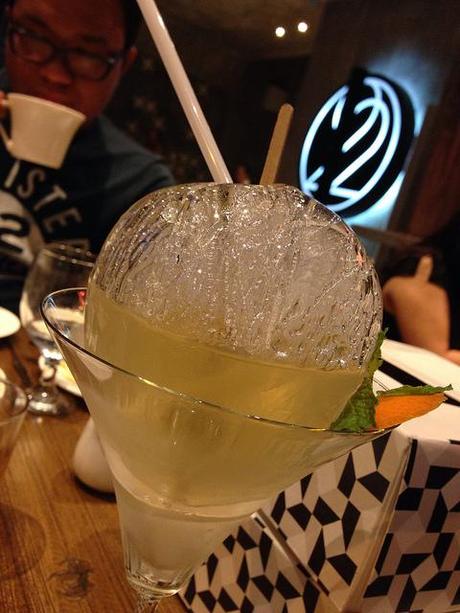 Hatch & Balls, P250.00
Calamansicello, Rosemary Syrup, Noliprat
We really just tried this because of the awesome container. Haha. The local (calamansi) version of the lemon-based limoncello, this was quite good. Also a bit strong, but once its ice fortress started melting, it turned out to be just right.
Menu:
Hatch Brunch Specials
Pancakes, Manila Breakfast
Kettle Pot, Greens
Cafe Menu, Pastas
Hand Crafted Cocktails
Hatch 22 really offers all kinds of fun and it was a very pleasant afternoon. We actually came back recently, but this is getting long, so let's save that for another post. :)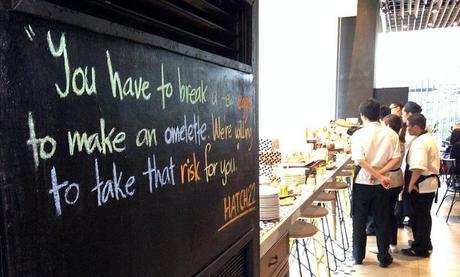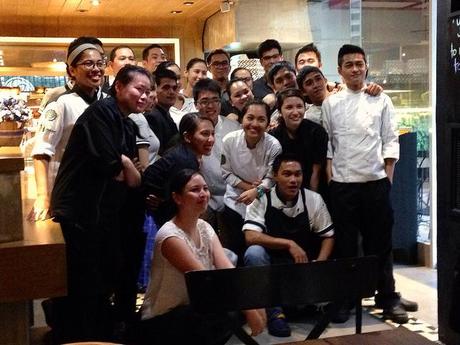 Hatch 22 Family
Love Hatch 22? Hate it? Let me know by commenting below, or just tweet me!


HATCH 22
Ground Floor, Power Plant Mall,
Amorsolo Dr., Poblacion, Makati City
+63917-7942005
Operating Hours:
Mon - Wed: 7:00 am - 11:00 pm
Thu - Sat: 7:00 am - 12:00 am
Sun: 7:00 am - 10:00 pm
Facebook: Hatch 22Twitter: @hatch22ph
View Larger Map