By Fabiola Carletti
Previously published by Open File Toronto and t.o.night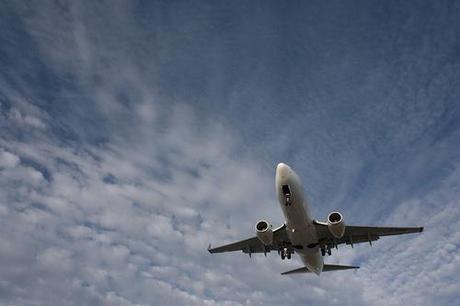 By Paul's Best Shots on Flickr (CC)
Many residents of neighbouring communities say they're used to the rumble of airplane engines, and few look skyward when planes travel overhead. Realtors even list proximity to Pearson as a perk.
But the same aircraft noise has been turning heads in more central parts of Toronto.
Alice Kent, who lives near Bloor Street West and Christie Street, was in her backyard in late March when she noticed the roar from above. At first she dismissed it as an anomaly, but thought twice when she spotted a noise complaint poster in her area.
"Are you bothered by the recent increase in jet plane noise?" probed the flyer near Dupont Street and Ossington Avenue.
"Since Feb 9 planes going to Pearson airport now fly at a low altitude over the central city. If enough citizens complain, this policy can be changed."
She took a picture of the call to action and posted it on Facebook.
"A few people reacted to my posting saying 'Oh God, yeah, I feel like these things are flying into my house'," says Kent. "Now the question is, are they actually flying lower, and if so, why? And if we all complain will it actually change anything?"
…continue reading