MAGAZINE
❤ ❤ ❤ ❤ ❤ ❤ ❤ ❤ ❤ ❤ ❤ ❤ ❤ ❤ ❤ ❤ ❤ ❤ ❤ ❤ ❤ ❤ ❤ ❤ ❤ ❤ ❤ ❤ ❤ ❤ ❤ ❤
H
Anupama ChawalaMAX Fashion Icon 2014 Grand Finale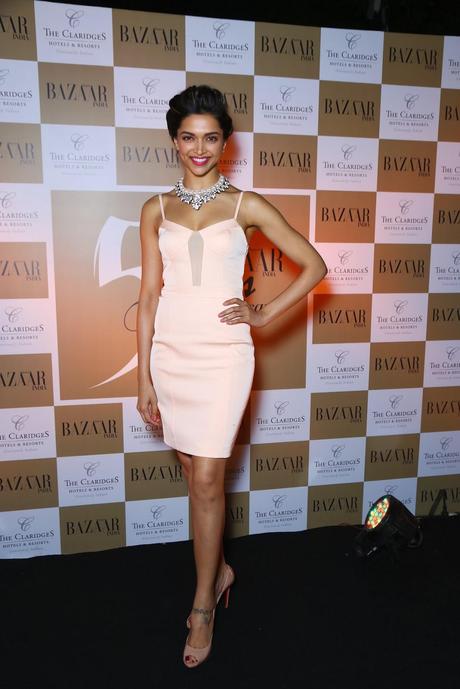 What:
Red Carpet glamour came alive to celebrate the fifth anniversary of Harper's Bazaar in India, the well heeled fashion lovers of the capital came together to raise a toast with 
Mala Sekhri, Chief Operating Officer, India Today Group and Nishat Fatima, Editor, Harper's Bazaar.
 Also, present were Ashish Bagga, Group Chief Executive Officer, Kalli Purie, Group Synergy and Creative Officer and 
Gautam Ranji, Senior Vice President Licensing and Business Development at Hearst Magazines International.
The night came alive with the unveiling of the anniversary issue which happens to be the 50th issue as well by Bollywood's biggest star right now Deepika Padukone joined by Kalki Koechlin.
 They truly raised the glamour quotient as they walked down the red carpet. Deepika looked stunning as she wore Alexander Wang and jewelry by Shourouk while Kalki dazzled in a Zuhair Murad creation and jewelry by Amrapali styled by Bazaar.
The Crème de la crème of Delhi came together to raise a toast to celebrate with the Bazaar team.

Sharing her insights on the fifth anniversary issue of the magazine in India,Mala Sekhri, Chief Operating Officer, India Today Group said, "Harper's Bazaar in 5 years has become a "must read" for the new Indian woman who likes to live a fashionable life. The fifth anniversary issue celebrates the urge to experiment as fashionistas try new things this spring".

Adds Nishat Fatima, Editor, Harper's Bazaar India – "To mark the occasion, Bazaar has put together the exhaustive Bazaar A-List, which features 50 trailblazers who are shining a light on contemporary culture and what we value now. The 50 people came together for our 50th Issue. These are the 50 people who influence how we dress, the way we see, what we buy and what we preserve."

Where:
Sevilla, The Claridges, New Delhi.
When:
Friday, 7th March'14 over
 a sumptuous spread of
 cocktails and hors d'oeuvres  by Sevilla

Guest List:
Actors: Deepika Padukone & Kalki Koechlin. Singer: Aadesh Shrivastava. Designers: J.J Valaya, David Abraham & Rakesh Thakore, Ashish
 & Misha
 Soni, Gaurav Gupta, Anju Modi, Shivan Bhatia & Narresh Kukreja, Mandira Wirk, Neeru Kumar,  Anupama Dayal,  Gautam Rakha, Varun Bahl,  Poonam Bhagat, Nida Mahmood & Raul Chandra  , Anand Bhushan, Yogesh Chaudhary, Gaurav Jai Gupta, Gautam Seth & Prateek Jain . Delhi's fashion and party enthusiasts:  Nupur Puri - Harper's Bazaar Bride Editor,  A.D Singh, Kalyani Saha, Priya Paul,  Sethu Vaidyanathan, Tikka Shatrujit Singh, Vikrum Baidyanath, Charu Sachdev, Sanjay Kapoor , Niamat Bakshi, Tanisha Mohan, Ashish Anand, Amol Vadehra. French Ambasodor H.E. Francois Richier