September Week 4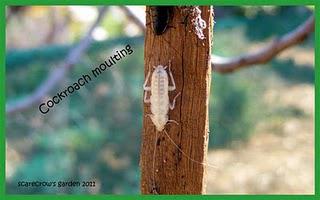 Not an albino Cockroach...
...apparently they turn white when they moult!


Weather:


With yet more frosts forecast for the coming weekend planting out was put on hold. This week has been horribly windy yet again and I have been putting a shadecloth cover over the glass front on days when the temperature is set to top 30C. At least we have had a bit of rain even some small hail!!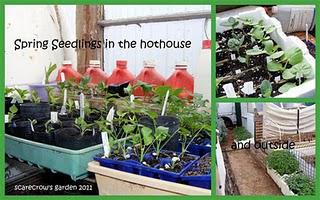 I have been getting the seedlings out into as much sun as I can on calmer days to stop them going 'leggy' which is what will happen if they don't get enough light. This is the beginning of hardening off...but they also need to stay out over night for that.


Propagation:




Seeds:


Beans

Phaseolus vulgaris

:
Climbing:
Purple King from DT Brown
Blue Lake from Eden Seeds
Dwarf:
Gourmet Delight from New Gippsland Seeds
Roc D'Or from Green Harvest
Tongues Of Fire from New Gippsland Seeds
Beans Soy

Glycine max

from Eden Seeds (

the last planting hasn't germinated yet

)
Beans Winged

Psophocarpus tetragonolobus

from Green Harvest
These seeds were soaked in hot rainwater for a few hours then sown in old egg cartons. As soon as possible after germination they will be planted out with minimal disturbance.
Sunflowers

Helianthus annuus


Double Dazzler from Diggers
Dwarf Sensation from Mr Fothergill's
Prado Red from Diggers
Sun King from DT Brown
Teddybear from Diggers


Helianthus debilis ssp. cucumerifolius


Italian White from Diggers
These were sown in folded newspaper pots made with one sheet of newspaper (not a double one) so they are smaller than the big ones. Again these will be planted out soon after germination.
Nasturtiums

Tropaeolum majus


Alaska from Grower's Pride
Milkmaid from Diggers
Tall Mixed from DT Brown
Buckwheat

Fagopyrum esculentum

from Phoenix Seed
Dill

Anethum graveolens

From Gringo in Victoria


Salvia splendens

Blaze of Fire from Mr Fothergill's


Free from the garden:


Borage

Borago officinalis

from seeding plants - scattered around garden


Potting up/on:


Luffa seedlings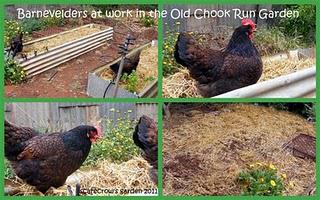 Yes the Barnies did almost destroy the mound garden. Mainly the mulch layer where all the beasties were hiding!
I have allowed them a short session in the Wicking Beds. They were closely supervised because these beds are full of wormies and the chooks aren't having them!!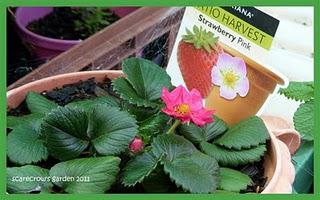 This was a surprise.
I expected the Pink Flowered Strawberries
to have pale pink flowers like the label said!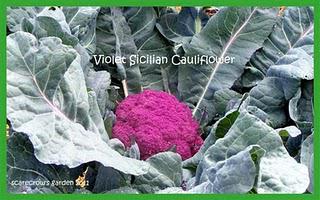 The last Violet Sicilian Cauliflower is ready to pick!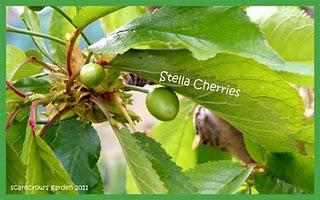 Baby Stella Cherries
are still hanging on through the windstorms.
Don't forget that you only have a few hours left to go in the draw for a copy of the October Gardening Australia Magazine. There is a growing list of names so why not add yours to the comment list on the last post here.