In addition to the 9th Annual Harbour Heights 5K, this year the Harbour Heights Charities added the inaugural Half Marathon to their April 4, 2015 event. As far as I can tell, this half marathon became the only half marathon in the Charlotte County area this entire race season, and that's a really awesome thing! I was originally signed up to do the half marathon - of course. My ongoing (and nagging) knee injury reminded me that if I wanted to continue training for the Cleveland Half Marathon in May, I had better plan on doing the annual 5k instead of the half marathon and thankfully, I listened to my body and requested a race change a week prior to the event, and the race director was kind enough to switch my registration.
About three weeks before this race, I was contacted by the race organizers of this race on Facebook. They were supposed to get energy gel from a national company (I'm not going to name names here), and they had just found out it had fallen though. They had seen my postings about my ambassadorship with Boom Nutrition, an awesome energy gel company from my hometown of Cleveland, Ohio and because they had completed a sponsor form with Boom, they were hoping I might be able to help with their sponsor request. I contacted a woman at Boom that I had been in contact with in the past and passed on the race information and told her how awesome the race directors and their cause were, and asked that if there was anything they could do, it would be greatly appreciated. The end result? Boom Nutrition came through and the race was supplied with Boom energy gels!
As it turned out, because I was doing the 5k, my friend, Jan agreed to join me for this race. She had just recently gotten back into running because she had given up running about ten years ago due to ongoing back pain. This race was to be her first "official" 5k event and I was kind of excited for her. I have to admit that it was really nice to go to an event in my own community where I know so many of the participants and race organizers.
There was a Facebook blast so we knew well in advance that we would be parking off site and taking a local trolley to the race. We arrived in plenty of time to catch the trolley and head over to the registration area to pick up our packets. Afterwards, we headed over to the tent set up by friends of ours, where we left our swag bags during the race since it was easier than taking it all the way back to the car. We grabbed a photo opp, socialized for a bit and then headed over to the start line.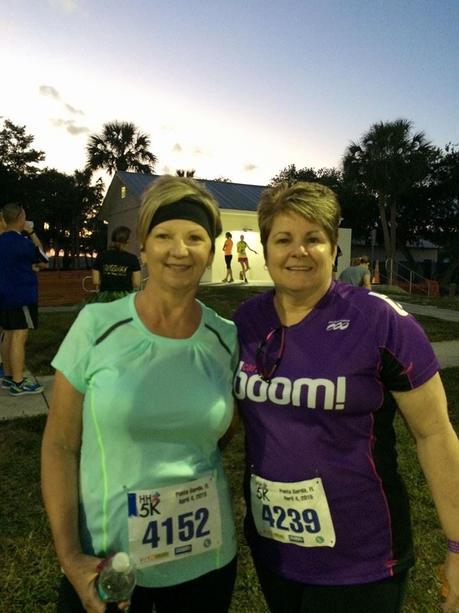 The 5k course was through the Harbour Heights community and we breezed through it and had fun. Even though Jan is already a faster runner than me, she stayed at my pace through the whole race and it was really nice to have someone to run with instead of by myself as usual.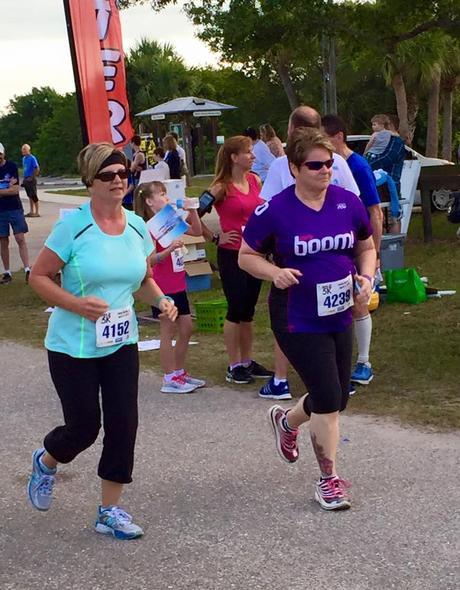 I can't share about the half marathon course but I heard that it also took the runners through the waterfront community of Harbour Heights along the Peace River and through the neighborhood, starting and finishing at the beautiful Harbour Heights Park. If I'm healthy next year, I'll definitely check out the half marathon and report back.
There was live entertainment along with vendors, resource tables, and live demonstrations to keep everyone entertained all morning. The event wrapped up with trophies and awards in all age categories for the 5K, along with custom finisher's medals for each half 2 marathon entrant. There were drawings for gift baskets (with each participant getting one ticket included with their entry). They also had a drawing for some fantastic raffle prizes.
This event was to benefit Autistic Student's Communication Disorder classrooms in the Charlotte County Elementary Schools, Autism Speaks, and the building fund for a future Congregate Living Facility for Autistic adults in Charlotte County.
Please make sure to visit my homepage and subscribe to my blog for more great posts on running, fitness and lifestyle topics as well as food, product, music and book reviews, and more!