Happy Halloween, all!
I'm a Guest Blogger over at the HILARIOUS Paige Kellerman's blog, There's More Where That Came From.  You can hop on over there to see my advice on surviving scary movies!  Click HERE!
So. Today's the big day.  The day that we've all been waiting with bated breath for.  The trick-or-treaters are ringing the doorbell and the dog is going nuts.  What did you all decide I would be for Halloween?! A terrifying Alien?  A gross Mummy?!
No.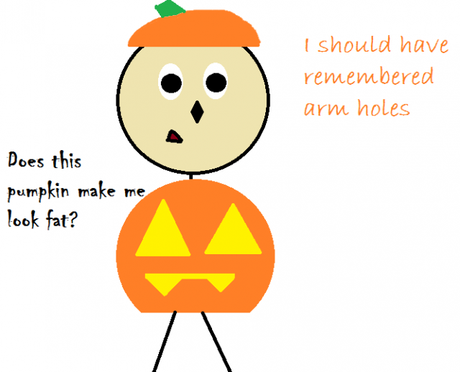 Yes, I am a pumpkin.
Thanks all.
If you want me to draw a stick figure picture of YOU in a Halloween costume, leave a comment below with your costume choice.  There will be a costume parade on my blog sometime this week!
Well, it's been fun, guys.  If you missed any blog posts or are drunk and have nothing better to do for Halloween, you can catch up on them below.
As, always,
HAPPY HALLOWEEN!  Don't eat too much candy!
Monday – Regected Candy
Tuesday – Interview with a Dead Playwright: William Shakespeare
Wednesday – Why Movies Have Made Me Terrified of Lakes
Thursday – How to Survive a Scary Movie
Friday – Guest Blog: April Denton's Poem, Ultimate Regection
Saturday – Since When Did Monsters Get So Pretty?