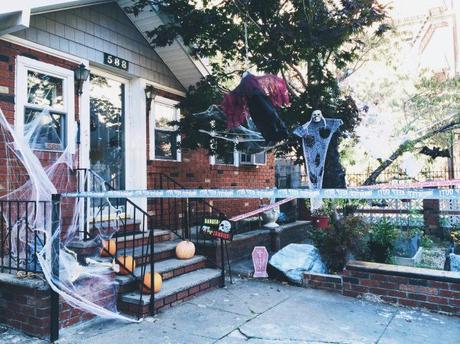 We are all ready for Halloween at the Notes/Gonzalez household!  I will admit, aside from the pumpkins, most of this decor was done by my fabulous neighbors.  We are excited for a neighborhood celebration complete with a parade, and I can't wait to take Nico trick-or-treating for the first time in his Mickey Mouse costume.
In celebration of Halloween, I have decided to share some of my holiday favorites this year…
*A combo including two of my favorite things…white pumpkins and glitter.
*This may be a Christmas movie, but it includes my favorite Halloween song.
*One of my most favorite Halloween costumes to date.
*And I had to, of course, include an old school throwback with the little sis.
*This movie is one of those that you have to watch at least once a year.
*Love these adorable Halloween Frankenstein treats.
*Speaking of yummy things, you must try this pumpkin fluff dip.  They serve it with graham crackers which is great, but I also like it served with apples and nilla wafers.  Amazing.
*This scarily sweet martini is right up my alley.
*My favorite children's Halloween costume.
*Who remember's these awesome books from when they were a kids?
Hoping you all stay safe this Halloween night.  Have a fun time and hope there are less tricks and more treats!
Happy Weekend!
XO,
Gina