Well, first off I want to wish you all a happy Easter.  Even if you aren't of a Christian persuasion it's still a fun holiday to celebrate as far as forgiving, sacrificing, and getting (and giving) second chances.  Not to mention all the fabulous candy, chocolates, and Easter ham.  At least my family always has ham on Easter.  I was trying to think of something interesting to do that was Easter related without doing the usual "fabulous candies and jelly-bean flavors" which I feel has been overdone this year.  So, I turned to pinterest, as I do when I'm in need of inspiration for anything else (or just looking to kill time).  So I hope you enjoy.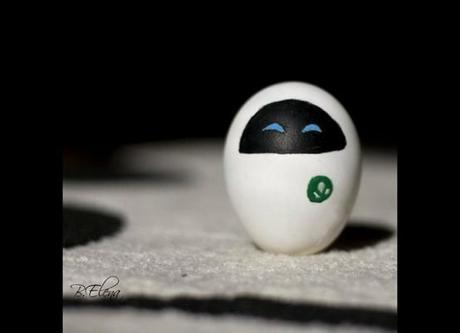 At first  I couldn't tell what this egg was and I thought it was a ninja.  I like the idea of a ninja egg.  However, that is not what this is.  It's the robot Eve from the movie Wall-y.  Which is a very cute movie.  And I love this egg painting idea.  I wish I was more creative with my egg dying, although I also haven't died eggs for years.  Maybe I should work on my egg painting skills over this year to be ready for next Easter.  Then maybe I can post some awesome egg-pictures on Pinterest.
Well, this just looks tasty.  If you're hosting an Easter party, try this bread bunny.  Although I have to admit, hollowing out the Easter bunny's stomach to make room for ranch dip seems a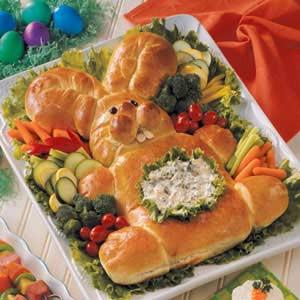 little cruel…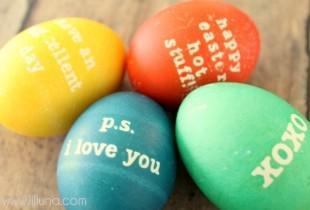 Here are some more cute eggs.  This look pretty simple, but the handwriting on these is impeccable.  I always use those wax crayon things to write on eggs and then dye them, but then you can't really see what you've written until the egg is colored.  This usually leads to me imagining my handwriting is better than it actually is.  This person, however, seems to have a skill for blind writing on eggs.
These Easter deviled eggs just look kind of elegant.  I'm not a huge fan of deviled eggs, but these just look so pretty…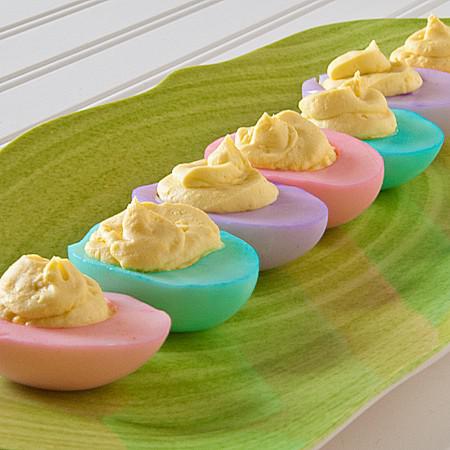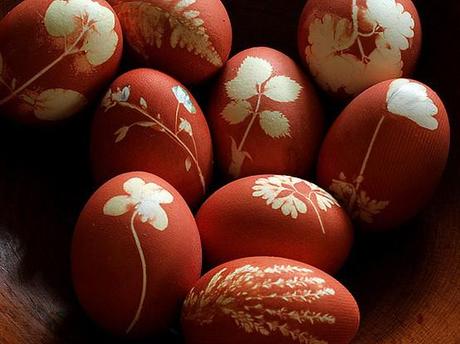 These are some more fabulously dyed eggs.  I've never seen this kind of red and white egg before, but they look very delicate and pretty.  you'd have to spend some time working on the white parts to get them right, but considering how much more white space there is these might actually be easier to do than writing.  Supposedly these are done with leaf clippings and simmered in onion skins.  I'm not sure how that works but the effect is great.
I'm going to call these next eggs "spiderweb" eggs because that's what the design reminds me of, but I have no idea how you'd go about getting such a cool effect.  Worth trying to figure out though.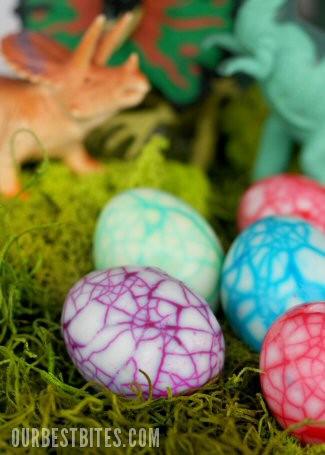 Now, for my finally fun picture, here's some "bunny bread".  I think this is just adorable.  I'd try it myself but I'd never want to eat the bread.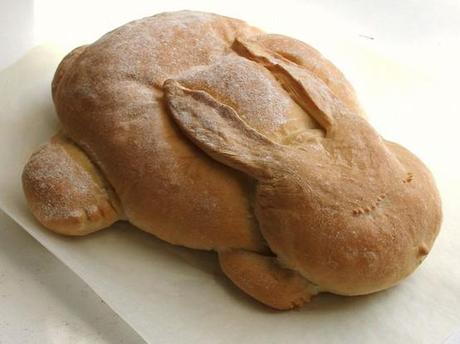 Well, that's all for today.  I have to apologize for my picture spacing.  I'm not sure what happened but one minute word press was cooperating and the next minute it wasn't.  I'd try to fix it but…I'm feeling a little lazy and don't particularly want to.  I hope you all have a very wonderful holiday weekend and if you do any spectacular egg dying at your house, please link to pictures of your own!