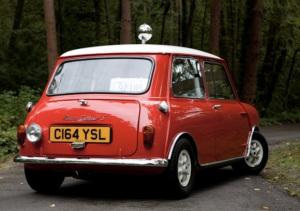 SERENADE 2 SENIORS
My children feel that I should change my car because it is five-years-old but when I told them the following story, they let up for a while.
I grew up in Bloemfontein, South Africa and I remember when my mother purchased her Austin Mini-Minor. It was on December 28, 1970. She drove it for 13 years and on October 18 1983, she sold it to my cousin who lived in Johannesburg. When she handed him the car keys, she put a sheaf of papers in his hand which contained the original receipt of purchase, together with all the paperwork she had accumulated pertaining to the car.
My cousin called me from Johannesburg the other day to tell me that today, ' the mini' as we referred to it, was celebrating her 42nd birthday. Isn't that amazing? Let's raise our glasses and toast this incredible car.
I wish my mother were here to share this toast with us.