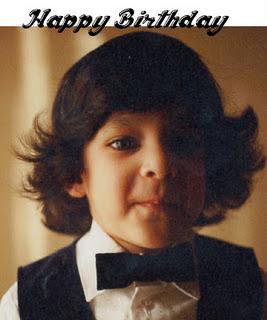 Hungry Husband is turning a year older today. Happy Birthday! I had to share with you especially because I found this adorable picture of him. What a cutie right? Well, HH and I are both on our way to the "mid-30's." There are days when we both act like we're somewhere between 15-18, and then there are days when we both feel like we are well into our 70's. Thankfully, the days when we feel like mature adults with a good handle on life outnumber the rest. AlthoughHH isn't celebrating a milestone birthday, I decided to throw him a big fete anyway. I was inspired by a recent comment he made, he said, quite seriously, "I want to buy a cowboy hat. Thoughts?" 
I guess you could say I was somewhat concerned. He is def too young for a mid-life crisis (and anyone walking around downtown Toronto with a cowboy hat is either a) going through some identity crisis or b) a mid-life crisis or c) in the wrong city.) Anyway, thankfully, a cowboy hat hasn't arrived at home
yet
. But, I took the opportunity to plan a country-western themed birthday party. You have no idea the kind of damage I did at
Party Packagers
. Let's just say there is a cowboy hat (but it only cost $3.99) and HH will be wearing it this weekend. Long story short, I'm wishing HH a wonderful birthday filled with all that his sweet little heart desires and of course, all that his insatiable tummy needs. Speaking of his tummy, tonight's menu is... His favorite - Spaghetti Bolognese
courtesy of the Barefoot
Contessa
. 
Weeknight Bolognese (Serves: 4-5)
Copyright 2010, Barefoot Contessa How Easy is That?, All Rights Reserved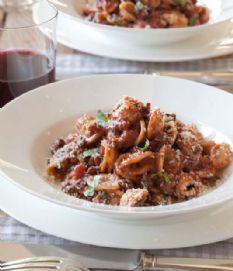 Photo: Quentin Bacon
2 tablespoons good olive oil, plus extra to cook the pasta
1 pound lean ground sirloin
4 teaspoons minced garlic (4 cloves)
1 tablespoon dried oregano
¼ teaspoon crushed red pepper flakes
1¼ cups dry red wine, divided
1 (28-ounce) can crushed tomatoes, preferably San Marzano
2 tablespoons tomato paste
Kosher salt and freshly ground black pepper
¾ pound dried pasta, such as orecchiette or small shells
¼ teaspoon ground nutmeg
¼ cup chopped fresh basil leaves, lightly packed
¼ cup heavy cream
½ cup freshly grated Parmesan cheese, plus extra for serving 
Heat 2 tablespoons of olive oil in a large (12-inch) skillet over medium-high heat. Add the ground sirloin and cook, crumbling the meat with a wooden spoon, for 5 to 7 minutes, until the meat has lost its pink color and has started to brown. Stir in the garlic, oregano, and red pepper flakes and cook for 1 more minute. Pour 1 cup of the wine into the skillet and stir to scrape up any browned bits. Add the tomatoes, tomato paste, 1 tablespoon salt, and 1½ teaspoons pepper, stirring until combined. Bring to a boil, lower the heat, and simmer for 10 minutes. 
Meanwhile, bring a large pot of water to a boil, add a tablespoon of salt, a splash of oil, and the pasta, and cook according to the directions on the box. 
While the pasta cooks, finish the sauce. Add the nutmeg, basil, cream, and the remaining ¼ cup wine to the sauce and simmer for 8 to 10 minutes, stirring occasionally until thickened. When the pasta is cooked, drain and pour into a large serving bowl. Add the sauce and ½ cup Parmesan and toss well. Serve hot with Parmesan on the side. 
Enjoy!
F2