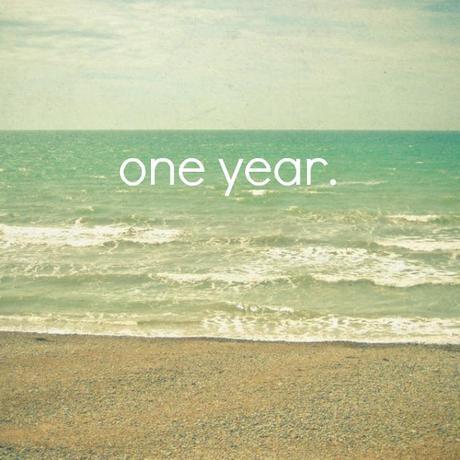 That's right! It's been one whole year since the start of this blog. One. Entire. Year. From name changes to branding readjustments to guest posts and the life-changing arrival of Pinterest (hooray!), this project has come a very long way. In its first month, Nook & Sea (then called Something 2 Write About) received 707 views. Today, toppling over 6,000 visits per month (and still climbing!), there are almost no words to describe how thankful I am to be supported, connected, encouraged and influenced.
I remember the thrill of my first comment ("Hello!"), the announcement of my first giveaway, the awkwardness of trying new things and the normal process of second-guessing its purpose. Is anyone reading? Why am I doing this? What is it for?
Through it all, I realized just how rewarding this project would be. I've met so many amazing women all across the board; from different countries and different states. I've had the opportunity to attend exciting events and become real life friends with inspiring creatives, designers and bloggers. Who knew?
As part of this celebration and ongoing evolution of Nook & Sea, I will be announcing some exciting changes in the coming weeks. I won't give too much away, but I will say that I remain dedicated to this brand, its partners, supporters and you. A million "thank you's" for your sweet comments, shares, tweets, emails, encouragement and readership. Without you, this site wouldn't exist! Please know that I read every comment, every email and every message – and if I haven't had the pleasure of responding to you personally, I'd love to connect.
To share my appreciation, I am giving away one $25 gift card to Crate and Barrel!
To enter:
You must be a subscribed email follower of Nook & Sea
Get an extra entry by sharing this link on your Facebook page
*Please leave one comment on this post for each action you complete. If you're already a follower of Nook & Sea through email, simple say "I already follow!" and your subscription will be verified. One (1) winner will be randomly chosen and announced next week.

Thank you, and good luck! Here's to another great year :)