As most of you are probably aware, today is the day when Americans commemorate the anniversary of the 911 attacks on the US by Al Qaeda.
And on this very day, the anniversary of 9-11, a crane fell in Mecca due to heavy rains, killing 107 pilgrims.
Happy 9-11 Everyone. And perhaps there is a God after all.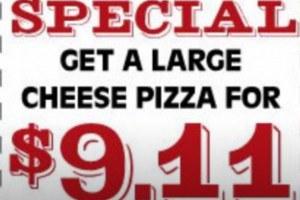 And for today only, WTC Pizza, which stores across the US, is offering a one time only deal of a large cheese pizza for $9.11 as a special in order to commemorate this important date.