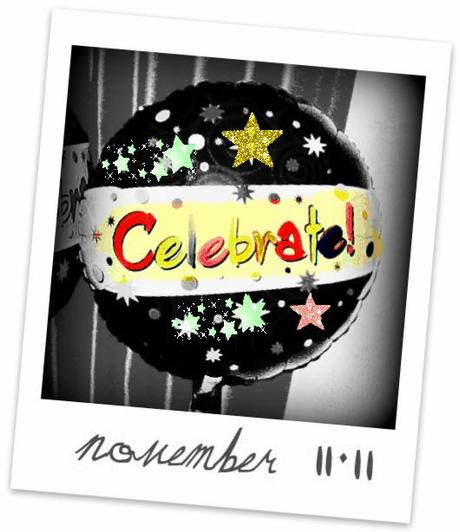 Another Friday (TGIF) has arrived and it's already the second day of December (TGID). After a very busy November filled with major celebrations to fete the wonderful people in our life, both Hungry Husband and I are ready to settle into cozy, snowy, lazy December weekends.
(Actually, the snow can hold out a bit longer.) 
My idea of a lazy weekend is a true cliche. Lounging around in PJ's with endless cups of coffee, a sunshine filled room with large cozy couches and a fireplace. Even my activities are predictable. Reading a book, listening to soft music, or dare I say, perusing online... (aka reading gossip magazines). Maybe a glass of wine or a shot of Bailey's with the passing hours... But, I never ever thought of incorporating Jack Daniels into this perfect equation...
In case you couldn't visualize what I was describing, this is what I'm talking about.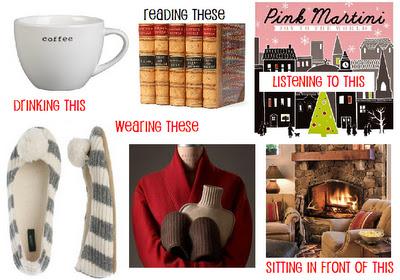 Let me add a new spin to your lazy weekend. How about Honey Jack Daniels? Oh yes. Sure, whiskey has never been my cup of tea ... at all. But this Honey Whiskey business is something that I can get used to. Hungry Husband has not been able to stop talking about it ever since he had a drink at his cousin's birthday party (he insisted that I do a post about it) and ever since then, it has become a staple at our parties. How can you not love it when you can make a drink called, "Honey Nut Cheerios..." uh huh! 
If that doesn't sound delicious to you, then you don't know Jack!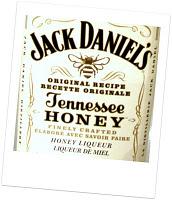 Honey Nut Cheerios
Shake ingredients with ice. Strain into a chilled cocktail glass rimmed with peanut butter and toasted almonds. Dust with cinnamon.
1.5 oz Jack Daniel's Tennessee Honey
.5 Tuaca (Vanilla Citrus Liquor)
1 oz Orgeat Syrup (sweet syrup with almonds, rose water)
1 oz Heavy Cream
1 oz Peanut butter
Even more recipes.... equally as delicious... 
Honey Kissed Bunny
Swirl Caramel in glass. Dip rim in caramel syrup. Rim glass with chocolate shavings. Build in iced shaker. Pour Jack Daniel's Tennessee Honey. Pour Tuaca Liqueur. Pour Dooley's Cream Liqueur. Shake & Strain.
Martini Glass
Caramel syrup
Chocolate shavings
2 oz Jack Daniels Tennessee Honey
3/4 oz Tuaca Liqueur
3/4 oz Dooley's Cream Liqueur
Ten Honey Hummer
Swirl chocolate syrup in Martini glass. Dip rim of glass with chocolate. Dip rim in graham cracker crumbs. Build in iced Shaker. Pour Jack Daniel's Tennessee Honey. Pour Irish Cream. Pour Coffee Liqueur. Shake & strain.

Martini Glass
chocolate syrup
graham cracker crumbs
2 oz Jack Daniel's Tennessee Honey
1 oz oz Irish Cream
1/2 oz Coffee Liqueur
The Tennessee Bee
Muddle blackberries with lime and maple syrup. Add Tennessee Honey and Chambord. Shake with ice and strain into an ice filled snifter. Garnish with Blackberries.

1.5 oz Jack Daniel's Tennessee Honey
.5 oz Chambord
1 oz Lime Juice
1 oz Maple Syrup
5 Blackberries

Anyway, Hungry husband has been ALL over this Jack and the taste grows on you. Go ahead and shake up your weekend routine and put away the Bailey's... there is a new Jack in town. (OK, I need to stop with the Jack).
Have a fantastic weekend,
F2