Today I'm doing something I don't think I've ever done before. I'm reviewing a product from one of my sample boxes!!!

J

In my May Ipsy bag I received a 1oz sample of the Hang Ten Classic Sport 50 Broad Spectrum Sunscreen (see what else I snagged here). I needed a sunscreen that day and this was fresh in my mind, so I grabbed it. I am so glad that I did because I love it!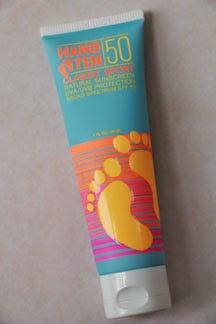 Usually I figure sunscreen is pretty much sunscreen, though I do have my favorites. Looking at the ingredients of the Hang Ten Sunscreen, I was intrigued because there are quite a few moisturizers included. Shea Butter is the second ingredient! It also contains Coconut Oil, Sunflower Oil and Cocoa Butter – that's a lot of hydration! (Full ingredient list is at the end of this post.) That could amount to a lot of greasiness, but it claims to be non-greasy. So I went about slathering the lotion on my arms and wow! This is not your average sunscreen!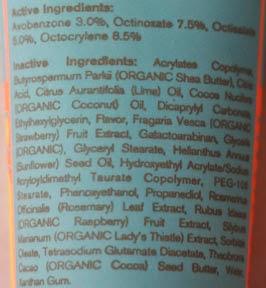 First, let me get into a bit of background here. Hang Ten is a lifestyle brand that was actually founded in 1960, but has just recently teamed up with San Diego based organic facial sunscreen brand Coola. Coola aims to provide sunscreens that are good for the skin as well as for the environment, and has continued this philosophy with Hang Ten Sunscreens. Currently Hang Ten offers three different lines: Mineral SPF Lotions that are chemical free, Classic SPF Lotions and Classic SPF Sprays. Each line offers a Broad Spectrum SPF of 30 or 50 (the spray is available in SPF 15 as well) and is Water Resistant up to 80 minutes. Much to my surprise and pleasure, they are also available at affordable prices! They run about $13 for a full size. I was not expecting that because Coola's face sunscreens are around the $35 mark I believe. I never thought I'd be all that excited about a sunscreen, but I really am!

J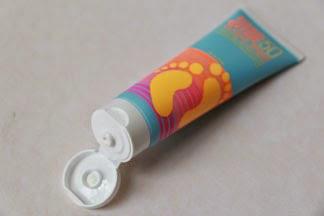 So, back to the sunscreen itself. It actually has a rather thin consistency, so it can be a bit messy if you're not careful. The great thing about the thin, almost runny, sunscreen is that it is so easy to rub into the skin! It is in fact quite moisturizing, but it isn't greasy at all! It does take a minute or two to absorb, but that's not a huge deal to me. It's not sticky or tacky like so many other sunscreens and it doesn't leave any kind of white cast, nor does it take a lot of effort to spread it around. It has a subtle scent that is pleasant – a bit like cucumbers on the beach, if that makes sense! It's not a scent that will overpower anything else you might want to wear, nor is it something that will overwhelm everyone else at the beach (though I do love that traditional sunscreen scent).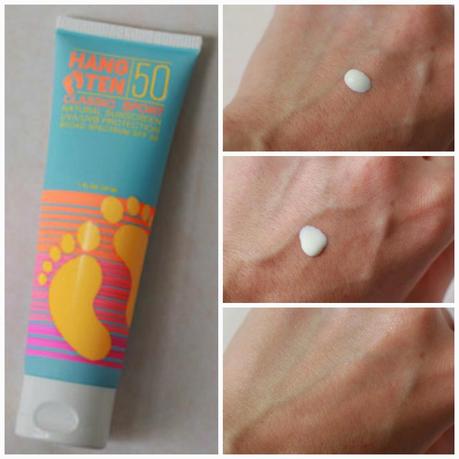 Of course it has the traditional sunscreen benefits of Broad Spectrum protection against UVA & UVB rays – vitally important! It also leaves out the bad stuff like parabens, Oxybenzone, Retinyl Palmitate, Synthetic Fragrances and Nano-particles. As mentioned above, it is water resistant up to the maximum 80 minute water resistance claim time that is allowed by the FDA! As an added bonus, the packaging is super summery and cute too. The Hang Ten Classic Sport 50 Broad Spectrum Sunscreen ticks all the boxes and is by far the best sunscreen I have found!!!

J


You can find the nearest retailer of Hang Ten Sunscreens on their website, or you can order directly from the site.
Active Ingredients: Avobenzone 3.0%, Octinosate 7.5%, Octisalate 5.0%, Octocrylene 8.5%
Inactive Ingredients: Acrylates Copolymer, Butyrospermum Parkii (ORGANIC Shea Butter), Citric Acid, Citrus Aurantifolia  (Lime) Oil, Cocos Nucifera (ORGANIC Coconut) Oil, Dicaprylyl Carbonate, Ethylhexylglycerin, Flavor, Fragaria Vesca (ORGANIC Strawberry) Fruit Extract, Gatactoarabinan, Glycerin (ORGANIC), Glyceryl Stearate, Helianthus Annuus (Sunflower) Seed Oil, Hydroxyethyl Acryate/SodiumAcyloyldimethyl, Taurate Copolymer, PEG-100 Stearate, Phanoxyethanol, Propanediol, Rosmarinus Officinalia (Rosemary) Leaf Extract, Rubus Idaeus (ORGANIC Raspberry) Fruit Extract, Silybum Marianum (ORGANIC Lady's Thistle) Extract, Sorbitan Oleate, Tetrasodium Glutamate Diacetate, Theobroma Cocao (ORGANIC Cocoa) Seed Butter, Water, Xanthan Gum
(I hope I got that right - the print is so tiny!)