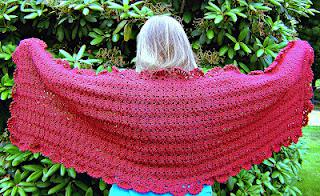 This handmade crocheted shawl/wrap is for either dress up or casual. Crocheted in soft acrylic yarn it has a shine to it that is so pretty. 
The color is a deep red almost wine color. The second picture is the true color. I happen to be watching an episode of Little House on the Prairie and notice "Ma" Ingalls was wearing a red shawl and loved how it looked so decided to make one in a reddish color. With the soft and shiny yarn the feel is great once you have it on and against your neck.
This shawl measures 63" long and 22" wide. This yarn stretches so once wrapped around you it will be even bigger. The pretty scallop stitch all around the entire shawl is lacey looking and very pretty against your neck. 
Great for evening wear or with jeans this versatile accessory will look great on you! 
I strive to always make quality items and a lot of work went into this shawl/wrap. It will last for years and years.
It is machine washable and dryable but I would wash by hand and dry flat so it retains its shape.
Need this item in another colorl? No problem. Let me know and we can work together to get your shawl the exact color you need!