I tend to be a WordPress plugin fanatic. Not that I use an abundance of them, but that I like to try out news ones to see which functions better. However, do you remember my previous post Things to Remember When it Comes to WordPress? I actually got locked out of both of my sites and couldn't figure out why?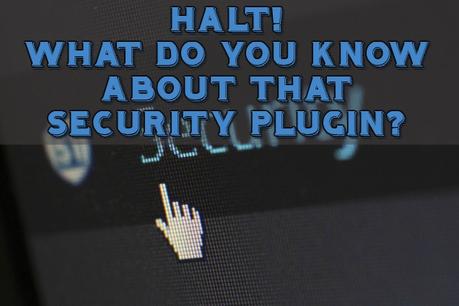 Since I wrote that post, I had the exact same thing happen twice!

So I freaked out the first time yet, remained calm. The second and third time, I grew angry and was determined to find out what was happening!
Sometimes I don't give myself enough credit
After performing a "WhoIs" on the IP address, I found out it was my web host. That's fine because I know they are protecting my host and I really appreciate that. However, to find out it was their IP address and not mine was a huge concern.
I contacted my host, who by the way I love dealing with, and notified them of the issue and attached the above image. After investigating, they mentioned it could be one of my Security plugins, WordFence. Little did they know, I was also playing private investigator on my end and figured out the naughty culprit, and it wasn't WordFence.
Security plugins can be a hot mess
If you have too many plugins that do basically the same thing, you may run into trouble. They will either create errors or really funk up your website.
HALT! What Do You Know About that Security Plugin?
Click To Tweet
Enter Jetpack
As I wrote previously, I loved Jetpack until recently when I had a few glitches. Not only did I have a glitch or two but some of my fellow bloggers did as well.

I find this to be a true statement. I love the features that Jetpack incorporates into my blog, again, until recently.
With the latest update to Jetpack, there is a feature called Protect. This feature is automatically activated, so I found out.

Protect is the culprit!
After going into my cPanel to remove Jetpack so I could actually log into my Dashboard, I reinstalled. I scanned the features long enough to see that Protect was Activated and not by myself. I Deactivated it and voila! No lockout's since!
It's amazing how one little feature can totally ruin it for an entire plugin!
If you remember, it locked me out of both of my sites! This is cray!
Resolved
This Jetpack feature may be fine and dandy by itself. However, I don't believe it mingled well with WordFence or one of my others.
That said, my sister site, My Girly Parts Unplugged is now rocking Jetpack again which makes my life easier.
Will I convert back MGP Magazine and my business site to Jetpack? That is still left to be determined.
Over to you
Have you ever found an issue with your plugins that were simply mind boggling? Only to find out, it was an easy fix? Thank goodness I love playing private eye and digging into the backend of websites. It's such a great learning experience!
Let's hear from you!

Brenda
Web Designer, Blogger, Blog Manager, Virtual Assistant
at
Brenda Pace Virtual Assisting
I'm a Blogger who loves to write, networking with others, and building a Community of like-minded people. I'm also a Web Designer and Blog Manager helping people to build their Vision. Please visit my other site
MGP Magazine
.

Latest posts by Brenda
(see all)
HALT! What Do You Know About that Security Plugin?

- April 15, 2016

10 Things I Bet You Didn't Know About #Dogs

- April 12, 2016

5 Reasons to Keep Your Voice

- April 11, 2016
Tweet
Share
13
+1
Pin
2
Share
1
Stumble
Total Shares

16