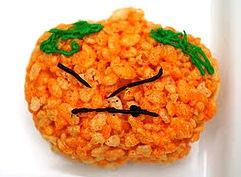 Today Catholics celebrate the eve of All Saints Day. It is All Hallows Eve or Halloween as we know it today. There is a three day celebration called Hallowtide. It includes Halloween, All Saints Day and All Souls Day. In Mexico, it is also know as Days of the Dead.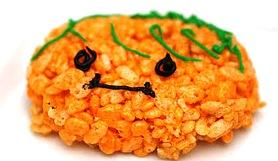 The English called saints or holy people "hallowed" giving it the name "All hallowed day. Because it is the eve before "hallowed day" it was shortened to All Hallows Eve and then Halloween.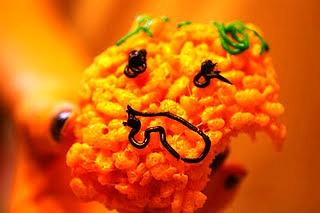 Halloween is the preparation of the upcoming feasts. All saints day (Nov 1) is an opportunity for the faithful to remember all saints known and unknown throughout the history of the church. All Souls day (Nov 2)commemorates the departed faithful who are still in purgatory and who have not yet made it to heaven.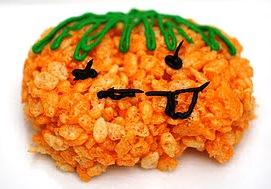 Halloween Rice Krispy Treats
3 tablespoons butter orange food coloring 10 oz marshmallows 6 cups rice krispy cereal assorted colored cake decorating gels.
Directions
Melt butter into a small sauce pan over medium heat. Add the food coloring and marshmallows and cook until melted. Put the cereal in a large bowl and pour the melted marshmallows over and mix. Line a sheet pan with foil that is sprayed with cooking spray. Dump the mixture into the sheet pan and press down the mixture into the pan forming a thin layer. With Halloween cookie cutters or molds, cut out shapes that you desire. Make hair and faces with decorating gel. Peace be with you, Veronica