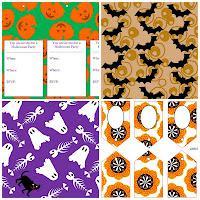 It's no secret that Halloween is almost upon us... so just a gentle reminder that to help you make it as simple as possible, there is a set of Halloween printable party stationary available on my store over at Partycraft Secrets, which includes templates for invitations, pennants, bag tags, food flags and much more... print, cut and create!
While you're there, have a look at the other party themes, and see if there isn't another design you can use the stationary for in a creative way - for $5.50 there's bound to be a clever way to get inspired.  (You can see some of the ideas other mums have used in the Gallery on the website or the Testimonials page on this blog.)
Also - there's still a little time left in the Craft Gossip GIVEAWAY of the Halloween Ebook - so pop across and leave a comment saying you're a follower of the blog and facebook and you're in with a chance!
Lastly; don't forget that Partycraft Secrets has some of it's favorite graphics on t-shirts (for adults, kids and babies) and as stickers over on Red Bubble including a pumpkin and bat one for Halloween so that you can go all out this year and make Halloween a true family affair!
Good luck everyone - I'm off to swelter in some unseasonable HOT Spring weather down under, while trying to convince my daughters that a day at home doing 'nothing' is the height of holiday pleasure!
Linda.