Halloween Mini Gardens IN Pumpkins
Pumpkins have been decorated in every way possible! From being bejeweled to fabric wrapped… I don't believe there is anything under the sun that hasn't been done to these fall favorites of the garden.
So, what could I do that was different…. hmm. How about putting a mini garden with a Halloween theme 'inside' of a pumpkin? I had fun coming up with this concept and I know you will too… check out this family friendly fall craft.

I have to let you know that this is my last fall post. There is a big season right around the corner and for those that may not be aware…
I'm a Christmas Decorating Horticulturist
I can tell you how to plant a tree while I'm up on a ladder decorating them! It's all a part of the job when your a manager at a garden store, every season brings a whole new set of decor criteria and my favorite thing to do is develop cool themes.
It's not quite ready yet… but for you Christmas Decor enthusiasts… I have a some very exciting things in store! I'm SO excited about this project that I'm literally beaming.
Watch for the launch of my BIG NEWS coming next week!

Halloween Mini Garden Pumpkin #1
Ok, back to these cute pumpkins that are fun to put together and the perfect weekend activity to create with kids. A lot of the accessories can be made with very simple materials you already have on hand.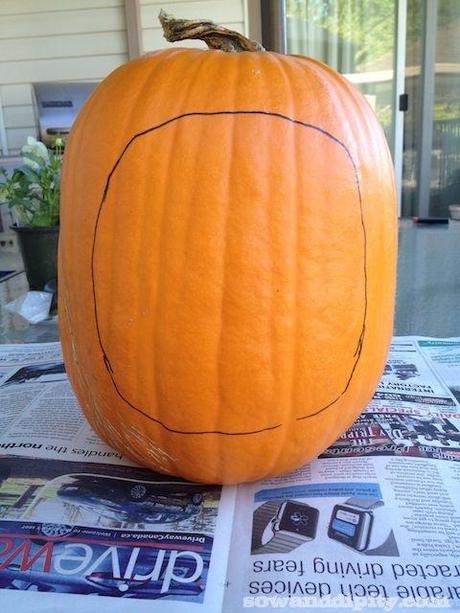 The first is the shadow box pumpkin. I looked for a taller shape with one flatter side and cut a nice oblong 'window' into it. Once I removed the innards, I let it soak in the sink for a half hour submersed in water with a 1/4 cup of bleach to kill off bacteria that will promote decay. This method won't prevent the rot from happening, but it will certainly delay it.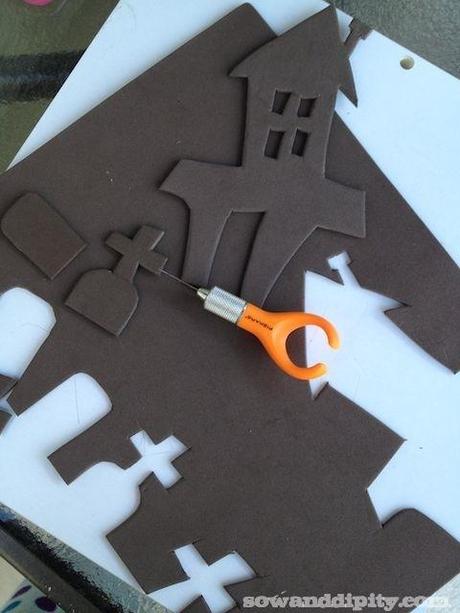 I had some fun foam from the dollar store and one sheet went a long way to create my silhouettes. Just trace a crookedly looking house and tombstones onto your sheet and cut it out.
I just hot glued toothpicks to the backs of my cut outs for sticking into the pumpkin. I found my decorative sand, ghoulie, plastic mini spiders and other mini Halloween accessories at the Dollar Store too.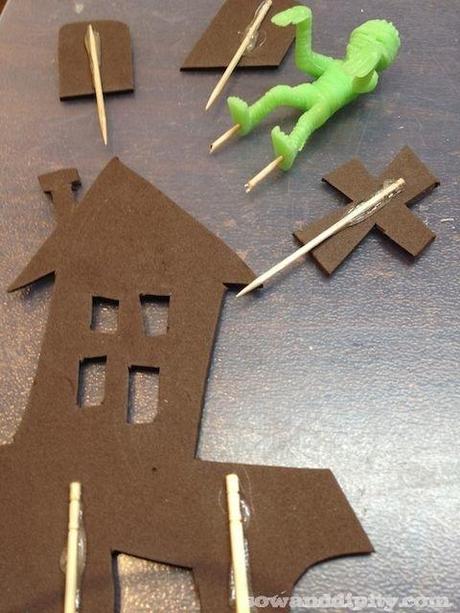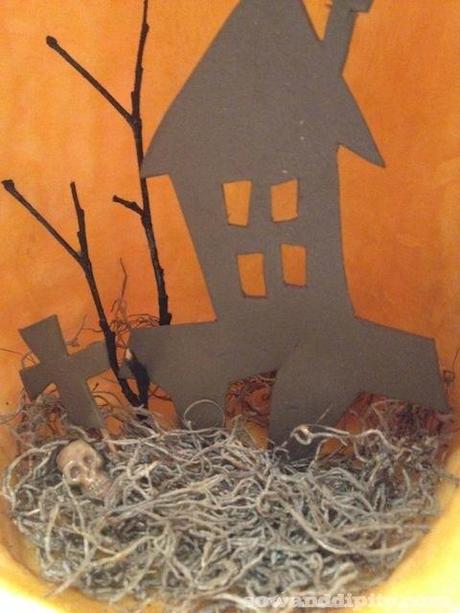 Place some sphagnum moss into your pumpkin then add your cut-outs for your scarey scene by pushing the toothpicks into the flesh.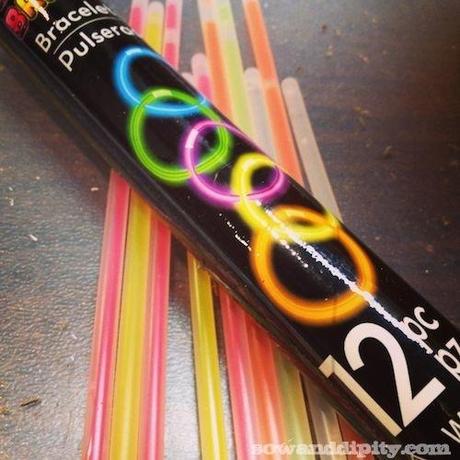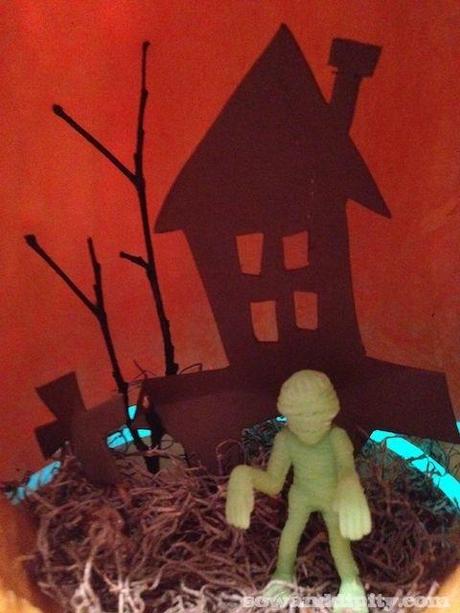 There are two ways to make your scene 'glow'. First I broke open a glow stick and 'painted' my mini skull and ghoul with the liquid. Next I placed a few activated glow sticks behind the scene inside the pumpkin. This is great for really dark areas.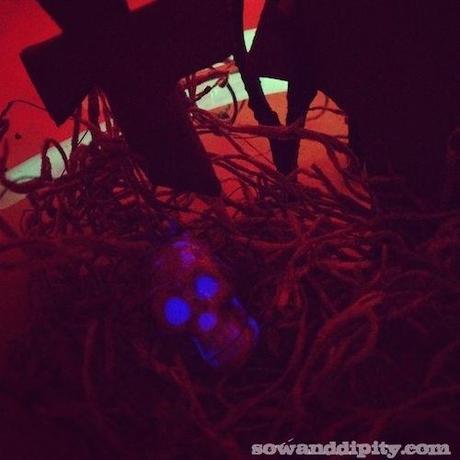 The second is to place a small lamp or candle behind the pumpkin itself so you create a creepy orange glow that will silhouette your cut-outs inside.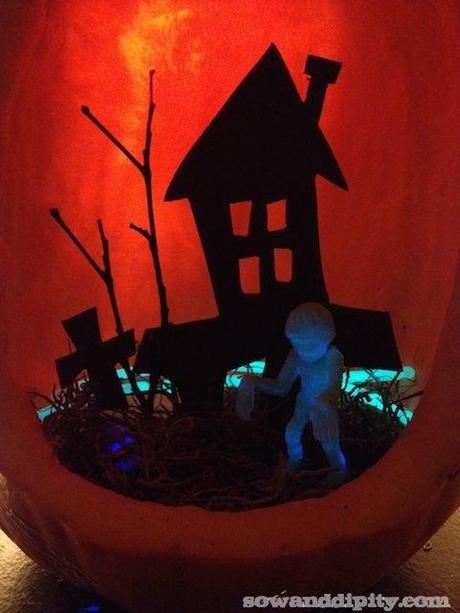 Halloween Mini Garden Pumpkin #2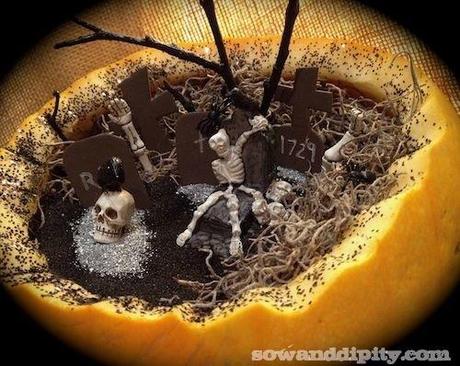 This one was built with the scene viewed from the top. I cut my circle out on a slight slant towards the front for maximum exposure. Remove the innards and treat the pumpkin the same as above in a bleach bath.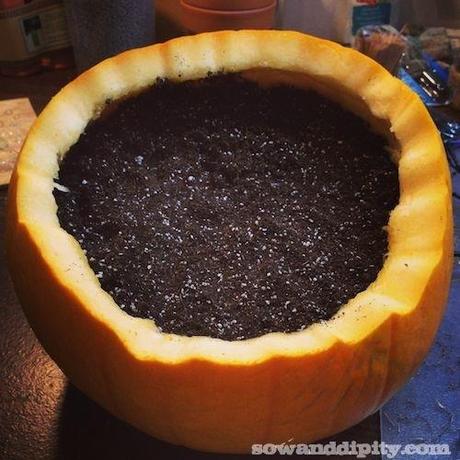 I filled mine with soil but you can use a chunk of styrofoam as well. Find a few twigs with lot's of fine branching and spray paint them black.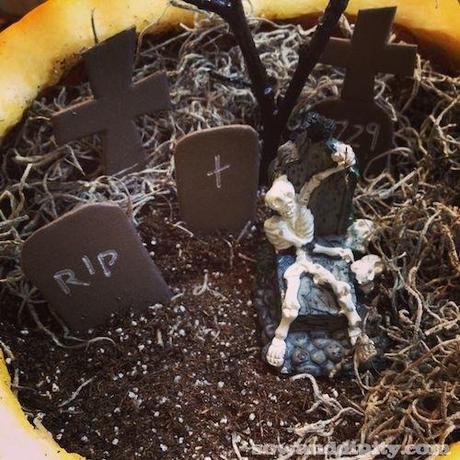 Sphagnum moss is used to fill around the back side and edges and I combined my cut outs with some other mini's I picked up at the dollar store.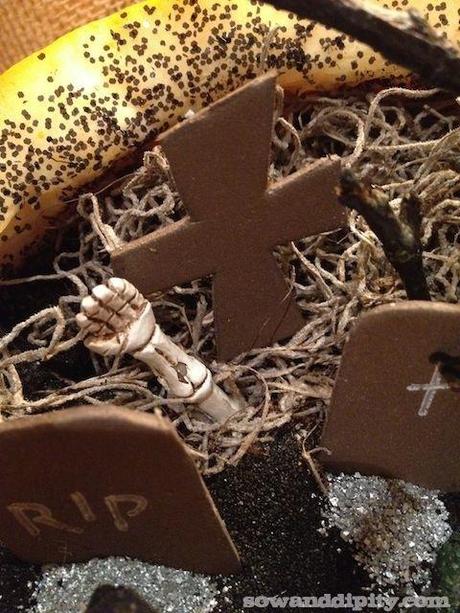 Use a paint pen ( I used a fine tip white out pen for mine that I got at the dollar store ) for funny sayings or dates etc. on your tombstones.

A broken Popsicle stick works great as a beware sign!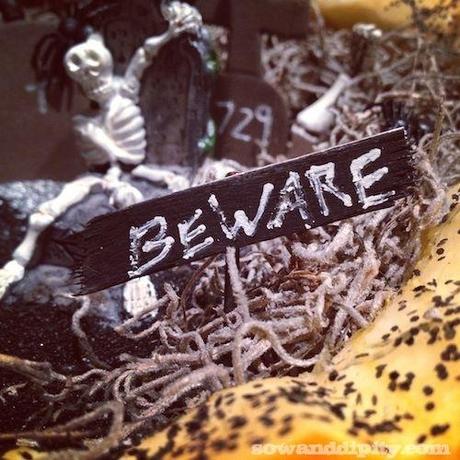 Black sand was used for the ground and I found some grey/silver sand that worked perfectly to create mounds on the graves.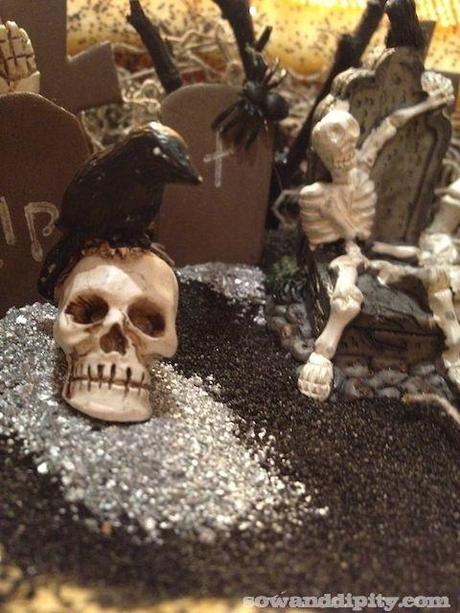 For the web designs on the outside of the pumpkins I used a stamp from the Dollar Bins at Michael's with some black paint. Just hot glue a mini black spider on top and you have a little interest outside your scarey scenes.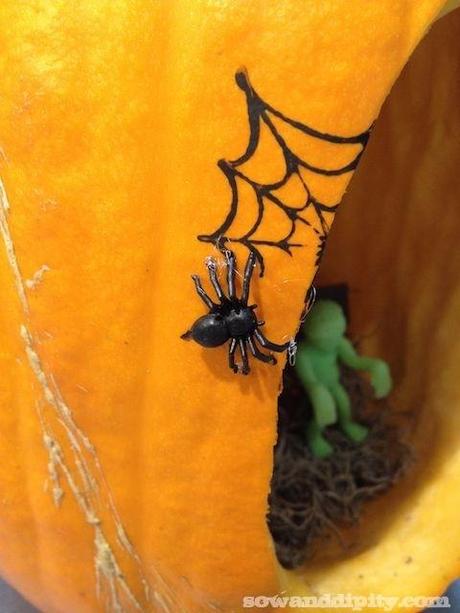 My Halloween Mini Gardens in Pumpkins lasted a week, so make these as close as you can to Halloween or your event if your doing this for decor.
Use your imagination with these, there are so many objects that can be turned into spooky fun. Mini plastic snakes, little black bats, tiny paper cones turned into a witches hat… you get the idea. 
So when you go to decorate your pumpkin this year… think 'inside' the box and try creating one of these adorable Halloween Mini Gardens in Pumpkins for this favorite fall holiday.
Eat. Drink. and be Spooky!
In: Dipity, Holiday DecoratingBy: Shelley Levis Comments: 0« DIY Spooky Books
Name*
Email* (never published)
Website
Give me more Garden Digs!
Notify me of follow-up comments by email.
Notify me of new posts by email.