As Halloween gets closer, thoughts of appropriate costumes for the kids starts to press on every parent's mind. Halloween will never be the same now that one of the oldest and most recognized names in the sporting goods industry – Franklin Sports – is getting in on the action, creating exciting and inventive products for every sports fan! These costumes take the worry right out of those frightful costumes that might be inappropriate, because really, who doesn't love football!
Franklin Sports is helping children to get ready for a fun-filled Halloween and football season with Official NFL Kid's Costume Sets! Your little football fan can look like a real gridiron warrior wearing this official NFL® uniform set! Included is an official home team jersey, team helmet with authentic logo and team colors and team pants that will have them looking ready to take the field. The set also includes iron-on numbers (0-9) for the back of the jersey. 
The polyester mesh jersey and pants feature the logos and colors of your favorite team.  The molded plastic helmets come complete with chin strap, and match the helmet designs worn on-field by the pros!  Customize your jersey with the iron-on number kits for an added authentic look and feel!  The sets are offered in Small and Medium sizes, which accommodate most kids ages 4-9.  The Small is for ages 4-6  | Waist: 19-22″ | Chest 20-24″ | Height 40-45″. The Medium is for ages 7-9 | Waist: 22-25″ | Chest 25-29″ | Height 48-54″.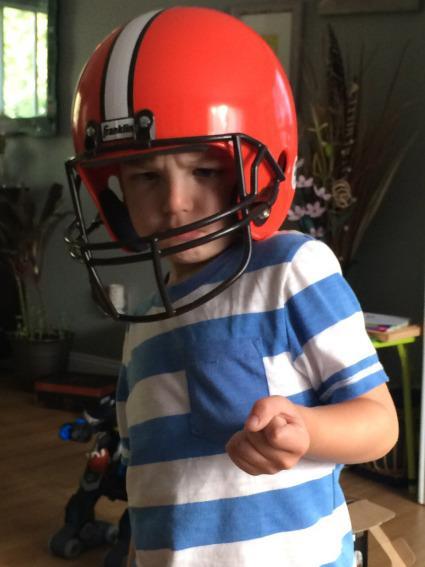 While ideally, I wouldn't have my grandson, Dylan, wearing the Cleveland Browns, but since we are from Cleveland, and my son is a serious fan who still loves the team, I knew that my grandson would think it was great too! (I suppose it is good that my grandson will learn about constant disappointment while he is still young.)  Anyway, Dylan is currently a pretty tall 4 year old, and the Small NFL Kid's Costume fit him perfectly! Now his biggest decision is whether he will be a professional football player or Spiderman for Halloween! Oh to be young……. ♥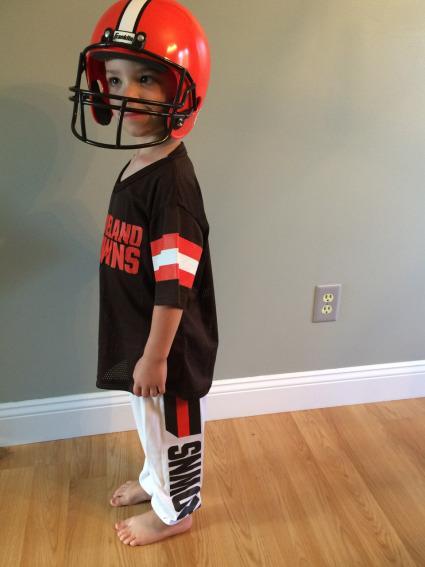 Franklin's Official NFL Kid's Costume Sets will be at the top of every child's list for their trick or treating experience or for the ultimate youth sports fan to enhance their football watching by emulating their favorite player. You can choose from 29 NFL teams to outfit every little football fan in your house!  For more information please visit Franklin Sports at their Website ==== HERE.
Also, here is a link that will take you directly to the NFL Costume Sets====== HERE!
I was provided with a complimentary NFL Costume Set from Franklin Sports in exchange for this honest review. Thanks so much Franklin Sports!!
~ ~ ~ ~ ~ ~ ~ ~ ~ ~ ~ ~ ~ ~ ~ ~ ~ ~

It would be great if you would stay connected with me!! You can follow me on Twitter @DebiL1611, like me on Facebook at 2014 and Beyond, circle me on Google+, follow me on Tumblr, Instagram and Bloglovin', subscribe on YouTube, or connect with me on LinkedIn and Pinterest.

Please make sure to visit my homepage and subscribe to my blog for more great posts on running, fitness and lifestyle topics as well as food, product, music and book reviews, and more!