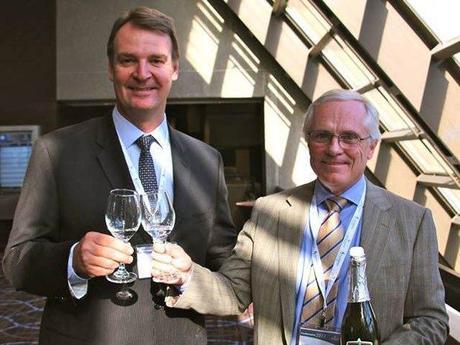 Halliburton Canada vice-president John Gorman (left) and Michael Binnion, President of QOGA and CEO of Questerre Energy Corp., drank fracking fluid at a Quebec industry event earlier this week.
At the annual Quebec Oil and Gas Association this week in Montreal, Halliburton VP John Gorman served up fresh fracking fluid in champagne bottles, and encouraged the audience to partake.
The effort is part of the new CleanStim blend that Halliburton is carrying. "We were trying to show that whenever the oil and gas industry is shown a challenge, we view it as an opportunity to find solutions. And in this case, we only had to replace very few chemicals with some food additives."
One of Gorman's patsies explained a few days later that "it was less viscous than I thought it would be, but more viscous than water. And very stale-tasting." The company still insists that CleanStim "is not intended for human consumption," and declares on its website in strong terms that "CleanStim fluid system should not be considered edible."
The publicity stunt is undoubtedly linked to the recent blockades in New Brunswick by the Mi'kmaq against SWN Resources. Surveys of the area show that nearly half (49 percent) of those polled opposed the increased use of fracking, which is increased from 38 percent just 6 months ago.
Earlier this year, Colorado Governor John Hickenlooper professed to having drunk fracking fluid, saying that it tasted bad, "but I'm still here." "You can drink it," he declared, "We did drink it around the table, almost ritual-like, in a funny way."
Halliburton also attempted the stunt back in 2011, when the CEO ordered one of his minions to slurp the cocktail in front of the cameras.
In 2009, Colorado Oil and Gas Association representative Kathy Hall resigned from her post after proclaiming, "[I] had fracking fluid taken right our of a fracking truck.. I've had it in my mouth. I've tasted it, and I'm just fine." She has since disappeared from the public eye.