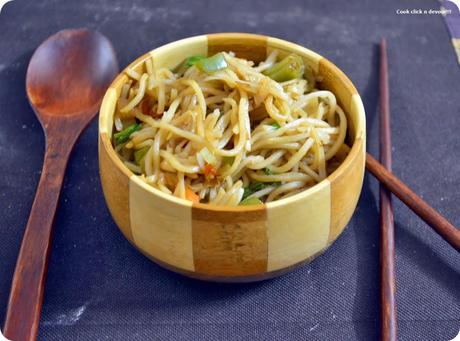 Hakka noodles is an integral part of Indo-Chinese cuisine.Hakka noodles is noodles made with durum wheat flour.I have never tasted I before and I was not sure what to expect from durum wheat flour noodles when I purchased a pack.But I was surprised in the best possible way,I just loved the aroma while the noodles was boiling.Once sauteed with veggies,sauces and with a generous dose of toasted peanuts and sesame seeds,this noodles was a sheer bliss to have on a cold evening.Have you tired hakka noodles yet,I urge you and you will not be disappointed for sure :). A very straight forward and simple recipe to follow and flat minutes your dinner is ready :)
Hakka noodles recipe
Star ingredients:Durum wheat flour noodles & assorted veggies
Time:15 minutes
Serves:4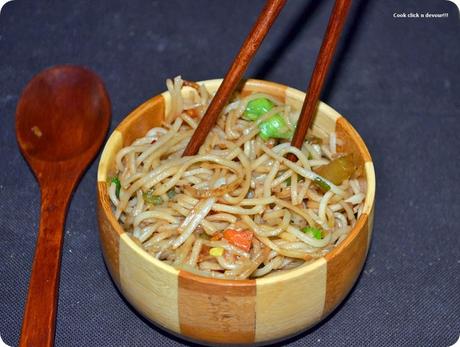 Ingredients:
250 grams hakka noodles
1 1/2 cup assorted veggies(french beans,carrots,baby corns,bell peppers,cucumber) chopped
2 spring onions (whites and greens separated)
2 teaspoons soy sauce
2 teaspoons tomato sauce
2 teaspoons chili flakes
1/2 teaspoon crushed ginger
2 tablespoons sesame oil
2 tablespoons crushed roatsted peanuts
2 tablespoons roasted white sesame seeds
1 teaspoon sugar
Salt
Method:
1.Cook and drain noodles according to package instructions.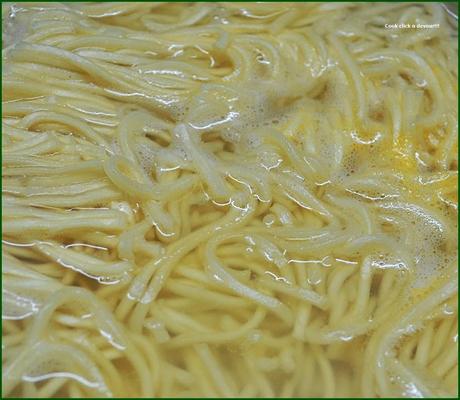 2.Heat a thick kadai/pan and add sesame oil.Add sugar,chilli flakes and saute well.Add crushed ginger and spring onion whites.Saute in high flame for 1 minute.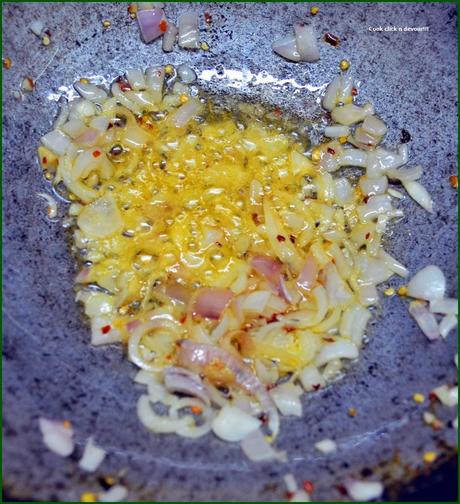 3.Add all the veggies and saute for just 3-5 minutes in high flame.
4.Add all the sauces and saute for 2 minutes.
5.Now add the noodles and toss well for 3 more minutes.
6.Add the peanuts,sesame seeds and mix well.Garnish with spring onion greens and serve immediately.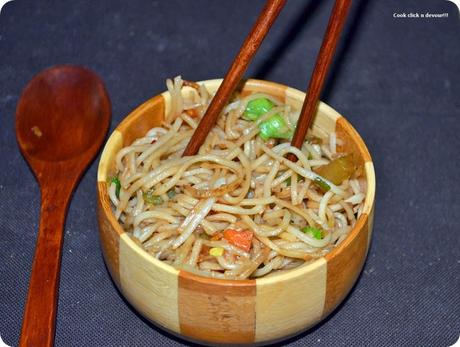 Notes:
1.Do all the sauteeing in high flame.The veggies should be still crunch and should not turn very soft.
2.You can add celery if available
3.Add crushed garlic if needed along with ginger.