I think I have tried just about every single type of hair brush, hair clip, and hair accessory on the planet. My least favorite was probably the red comb my mom used to use on my hair when it was time for a hair wash, aptly nick-named; JAWS. It looked like a wide tooth comb, except the space between the teeth of this comb were not wide at all which is why it ended up flying out of my bedroom window into my next door neighbours garden aka "lost at the swimming pool."
The lesson learned here is that anything that is causing you pain is not doing any good for your hair (broken bobby pins with the metal showing, bad brushes that rip through the knots, etc.) 
To ease your suffering I have compiled a list of my favorite essential hair tools which make styling and maintaining your afro hair a much more pleasurable experience.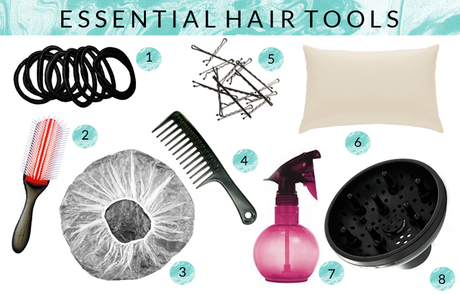 1.
Metal Free Hair Ties
These types of hair ties are a dream because there is no annoying metal on them that will snag and tear at your hair.
2. 
Denman Brush
The bristles on this style of brush are evenly separated which prevents snags, and are long in length so that they can comb through thick hair with ease.
3. 
Shower Cap
Deep conditioning treatments are a must for natural hair and I recommend doing a treatment at least once or twice a month. Covering your hair with a shower cap whilst you have a treatment on helps circulate heat, which opens the pores in your hair follicles thus providing a deeper penetration of the treatment.
4. 
Wide Tooth Comb
A wide tooth comb will help de-tangle any knots you may have in your hair, and can also be used to create neat partings for hair styles. The wide gaps between the teeth of the comb help the hair glide through easily.
5. 
Bobby Pins
Definitely stock up on bobby pins as they can be used to create unlimited styles and keep protective styles in place. Make sure to throw away any bobby pins that are broken as these can damage, snag, and break the fine strands of your afro hair.
6.
Silk or Satin Pillow Case
Pillowcases are one of the main causes of afro hair drying out or snagging over night, so if you want to retain moisture, prevent breakage, and prolong wash-and-go styles try sleeping on a silk or satin pillowcase.
7.
Spray Bottle
Water is the main ingredient you will be using for hydration, so keep a spray bottle filled with water nearby whenever your curls need refreshing. You can also fill it with your own DIY hair treatments to use at your leisure. Look for spray bottles that have a 'mist' action rather than a 'squirt' nozzle.
8.
Diffuser
This hair dryer attachment is a must have for anyone with afro or curly hair. It can be placed over the mouth of you hair dryer providing you with a wider distribution of air, and nozzles which help keep your curls intact.
Follow my Twitter for updates. I am also on Instagram where I post inspirational photos of natural hair textures.