Firstly, my apologies for such a gap between posts, we have just moved house and the internet hasn't been connected yet so I'm writing this from a sticky computer in the library instead of the comfort of my couch!
Right, what to wear with my wedding dress? It's not something I'd given much thought to, I assumed the only task was finding the dress and the rest should fall into place!
I asked David what he expected me to look like on our wedding day, and he replied: "I don't want to think about it, I just want to wait 'til the day", which is fair enough, but I know what he'd expect, the traditional bridal get-up. A long veil, A-line princess dress with a train, a rose bouquet, garter, delicate bridal jewellery, matching shoes and, let's face it, some nice underwear underneath.
I keep teasing him and hinting at a 'gypsy wedding dress' complete with moving butterflies and fairy lights in the skirt, or say I'm going for a 60s mini skirted crochet number as if we're going to drive off to the beach in a VW beetle after the ceremony, but he remains totally unfazed by either extreme. I assume this means that he trusts me to make good decisions about what to wear, but has there ever been more pressure to look 'just right' than on your wedding day?
I'm pretty sure I'm not going to have a veil, when you see the back of my dress you'll see why (without saying too much), but wanted something in my hair. Originally I thought of getting a million little flowers dotted all over tousled curls, real flowers on a headband, or something antique and pearly? I loved Jenny Packham's hair pieces (below), but not the price tag, and I thought of grabbing one of the gorgeous creations from the high street, but really wanted something a bit unique.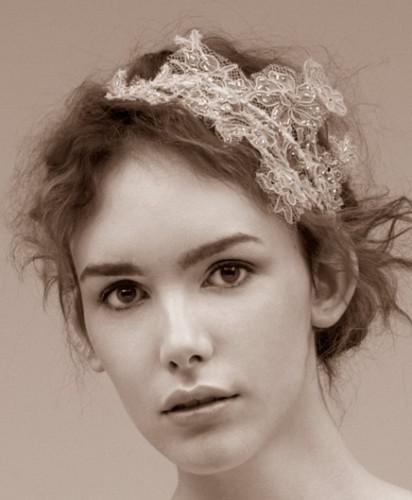 I searched for local crafters in the area, looking for someone who worked with textiles and could create something close to the vision I had in my head. I came across a girl, Katy, who runs 'What Katy Did Next', a local designer-maker who creates beautiful pieces. I looked through her work and loved it, but quite wanted a commissioned piece, and Katy was more than willing to take it on! I also sent Katy one of my bridesmaids' dresses (I will be posting the tale of the bridesmaids' dresses soon!) so she could colour-match  and dye swatches in preparation for my headband, I wanted it to look bridal but have some flashes of colour to bring a bit of interest to it. Below left is what I envisaged and drew, and below right is what was created. Isn't she fabulous?!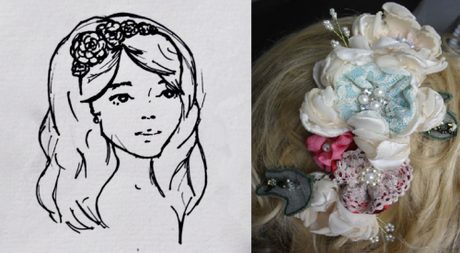 I'd also seen some fabulous photographs of brides wearing red shoes under their traditional white dresses, and loved the idea, I had to be one of them! I scoured different places for 'the perfect shoes'; red/burgundy/cranberry in one of the  same shades as my headband, suede, a mid heel, ideally a wedge, meaning I could last all day and not sink into the grass, and some sort of detail on the toe. Was I asking for too much? It appeared so for months on end, and then in the January sales I stumbled across the perfect shoes in the Zara sale, and for just £20, brilliant!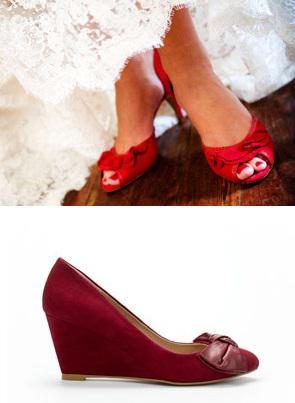 The last hurdle: the age-old traditional of 'something old, something new, something borrowed and something blue'. And I have the perfect solution.. but that's another story and another post!
Next up: my bridesmaids and flower girls.
Sally xx