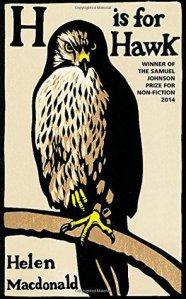 What's it all about?:
Obsession, madness, memory, myth, and history combine to achieve a distinctive blend of nature writing and memoir from an outstanding literary innovator.
When Helen Macdonald's father died suddenly on a London street, she was devastated. An experienced falconer—Helen had been captivated by hawks since childhood—she'd never before been tempted to train one of the most vicious predators, the goshawk. But in her grief, she saw that the goshawk's fierce and feral temperament mirrored her own. Resolving to purchase and raise the deadly creature as a means to cope with her loss, she adopted Mabel, and turned to the guidance of The Once and Future King author T.H. White's chronicle The Goshawk to begin her challenging endeavor. Projecting herself "in the hawk's wild mind to tame her" tested the limits of Macdonald's humanity and changed her life.
Heart-wrenching and humorous, this book is an unflinching account of bereavement and a unique look at the magnetism of an extraordinary beast, with a parallel examination of a legendary writer's eccentric falconry. Obsession, madness, memory, myth, and history combine to achieve a distinctive blend of nature writing and memoir from an outstanding literary innovator.
What did I think?:
Recently, I'm getting more and more interested in non fiction, although I have to remind myself to "get reading" it, I have far too many fiction books begging to be read on my shelves. I was aware of H is For Hawk when it first came out and then it won the Costa Award for Best Biography in 2014 so I was even more intrigued to read it. I remember going into bookshops multiple times, seeing it there, picking it up and then putting it back down again. After all, how interesting can a book about training a hawk really be? Then my boyfriend listened to it on audiobook and raved about how wonderful it was. That was it, determined. I HAD to pick it up and read it soon. Well, I finally got round to it recently and oh my goodness, why on earth did I wait that long?! This was a wonderful, touching and fascinating read that gave me a little fuzzy feeling inside and an instant admiration and respect for the author, Helen Macdonald.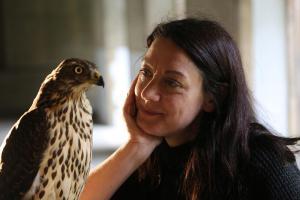 The author of H is For Hawk, Helen Macdonald with her goshawk. I love this picture!
Yes, H is For Hawk IS about how Helen learns to train a goshawk with very little previous experience but this book is also about so much more. She originally gets her first goshawk, Mabel after the sudden death of her beloved father and whilst she is struggling with her grief, she finally realises one of her biggest dreams since she was a little girl, becoming a falconer. When she was younger, Helen loved to read the author T.H. White's non fiction book entitled The Goshawk which described his own experiences as a novice training a bird of prey. She decides to re-visit that book as an adult whilst training Mabel and basking in the memories of her father and the reader is treated to parts of T.H. White's own story as he battled with both a cranky, independent goshawk and the truth of his own sexuality which he was desperate to hide.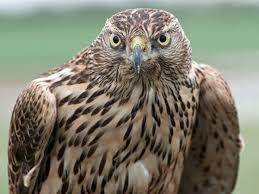 The goshawk (not Mabel, just a random one!) but an absolutely beautiful bird of prey, I'm sure you'll agree.
I adored reading Helen's story, from the minute she bought Mabel to the early days of training and the struggles with an incredibly fiesty, stubborn creature. Then there were both heart-breaking and heart-warming passages as Helen's grief for her father threatens to overwhelm her, leading her to neglect her mental health, shut herself off from friends and social events and make her worry that she'll never be able to connect with her strange new animal companion. Then there are the triumphs which quite honestly, brought a tear to my eye. I'm a huge animal lover anyway but there was a particular scene in H is For Hawk that really choked me up. Helen has been told that goshawk's don't really "play," but one evening, Helen decides to throw a paper ball at Mabel and the goshawk begins to join in, tossing and crunching the ball and moving her head to stare at Helen through a paper tube, extremely happy and content. This was a huge breakthrough for both Helen and Mabel and it was a passage I had to read over and over again, it was too adorable for words and I loved seeing both Mabel's personality coming out and Helen's happiness in the goshawk's reaction.
This is a far more emotional read than I was anticipating and really demonstrates the nature of grief, which rolls around like waves and may severely affect you some days more than others. I want to thank Helen from the bottom of my heart for being so honest about her suffering and am certain it will help other people going through the same thing, in that there is light at the end of the tunnel and the potential to be happy again. I'm also delighted to have found Mabel, such a huge character and beautiful creature that I'll find difficult to forget, that's for sure.
Would I recommend it?:
But of course!
Star rating (out of 5):

Advertisements