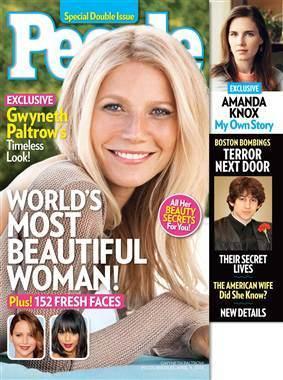 -The one good thing about Gwyneth Paltrow being named People's Most Beautiful Woman? Jezebel linked to my silly little Tumblr in their story about it! I can die happy now.
-Anne Hathaway is clearly upset that Gwyneth beat her in that recent Most Hated Celebrity poll, but this should give her an edge for next year: she's reportedly considering her first Broadway role. [Update: her rep's denied it. Keep trying, Annie! You're almost there!]
-Rihanna Instagrammed (then quickly deleted) a topless pic, and now she's insisting it wasn't of her. Not that she's suddenly shy on social media; she followed it up by tweeting about  Katy Perry spanking her.
-Speaking of Katy, she filed a $6.5 million counterclaim against Good Hair Day, saying they continued to use her name and image after dropping her endorsement deal.
-If you haven't seen Tilda Swinton lead an audience dance-along to Barry White at last weekend's Ebertfest, stop everything and watch it now. It will make you love life.
-SNL's Kate McKinnon imitated Ellen on today's Ellen and it was glorious.
-As someone who's supported two Kickstarter campaigns in the past month, I clearly believe it can be an inventive way to get quality pop culture made outside the traditional Hollywood system, but even I'm a little wary of Zach Braff's new donation plea. Though I might be in the minority; this afternoon he was raising roughly $1,500 every minute.
-Justin Bieber got two new, terrible tattoos: a tiger and an angel. But that's still not as bad as the look he was sporting earlier today. What. Is. Happening.
-Oh, and Justin's manager says he has 240 unrecorded songs in his journal, so we all have that to look forward to…
-Meanwhile, Matthew McConaughey approves of Justin's shirtless style.
-Vulture posted some very cute photos from the Time 100 gala, proving that Amy Poehler and Lena Dunham were the life of the party.
-As American Idol's ratings continue to bottom out, The Hollywood Reporter reveals that producers recently tried to replace Mariah Carey with ex-judge Jennifer Lopez. How does the public not love Mariah? Haven't they seen her pyjama pics?!
-Showtime has released a new clip from the Dexter season premiere. Deb is drinking in the middle of a grocery store, which can't be a good sign.
-I am really not sold on Shailene Woodley as the lead in The Fault in our Stars, but I don't mind her as the lead in Divergent (especially after seeing this pic.)
-This story about a young girl who has taken thousands of photos with celebrities is kind of disturbing…especially when you get to the part when she starts dating the kid from Two and a Half Men.
-Let's hope Greetings from Tim Buckley is a hit. Penn Badgley says he has no plans to return to television. "Nothing could drag me back."
-Odd couple Mary-Kate Olsen and Olivier Sarkozy continue to wig us out with their PDA.
-Tony and Pepper share a sweet moment in this new clip from Iron Man 3. I'm actually starting to look forward to this thing!
-Jason Segel continues to be the luckiest overgrown child in Hollywood. His children's book just got picked up by Random House.
-Sharon Osbourne says she was devastated to learn the extent of husband Ozzy's substance abuse.
-Vincent Kartheiser really, really doesn't like the Huffington Post.
-Julie Delpy has been hitting the promo circuit hard for Before Midnight and she's worn long-sleeved black dresses to four out of her last five appearances. The woman knows what works on her! She also knows how to shut down an obnoxious audience member.
-Here's the new XX song from The Great Gatsby soundtrack. Love!
-A new Japanese trailer for The Wolverine offers a longer glimpse at the action sequences.
-Wedding Crashers costars Rachel McAdams and Bradley Cooper were spotted grabbing lunch together, but they're sticking to the "just friends" story.
-This could be…interesting. Channing Tatum and Joseph Gordon-Levitt are rumoured to be in a new Guys and Dolls movie.
-Nicole Kidman, Ang Lee, Lynne Ramsay and Christoph Waltz will be on this year's Cannes jury.
-The more I see of Emma Watson in Bling Ring footage, the more I can't wait to see this movie. She nails the Valley Girl talk!