To be honest, I have no idea how to pronounce the name of this place (Gusto Organics? Just Organics?) but as far as I'm concerned, it's irrelevant because it's the food that counts.  Located in NYC at 591 14th Street at Avenue of the Americas,
Gustorganics
' menu is designed for all varieties of foodies, carnivores, vegans and gluten-free eaters alike.
Let's start with the decor - after all, our eyes lead us, most often, to our first impression.  Picture 10 or 20 small knotted wooden tables and chairs with cloth seat cushions and 2 long banquettes parallel to one another on either side of the room.  Woven coconut-shell looking low-light lanterns complimented the bamboo-looking menus, and the rustic bar added an extra touch of the outdoors with greens and ferns on the wall just above and to the side.  Of course, the wall of windows to the street that opens in warm weather is a nice touch as well.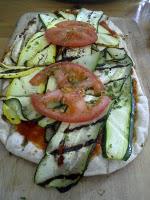 It's freshness jumps through the photo!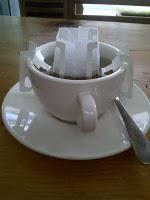 How cute is this tea holder?
As for the food, how about grated, seasoned tofu with shiitakes, onions and other veggies served with grilled potato rounds and a side salad?  What about a vegan croissant, perhaps accompanied by a beet, turnip and parsnip soup?  You might also try one of their stews, vegetable or lentil or their empanadas humita with corn, oregano and peppers.  I went with the rustic grilled vegetable gluten free pizza. The crust was cooked to perfectly that it was easily the best gluten-free crust I've had - it made me wonder if they gave me the wrong one!  It was topped with fresh tomato sauce and very thin slices of grilled eggplant and yellow and green squash.  That, with my cup of organic green tea, was a simply delicious lunch.