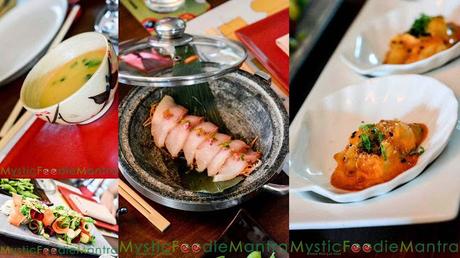 I wasn't a fan of Japanese cuisine, until I was introduced to Guppy by AI. Eating sushi/sashmi isn't easy for everyone as you need to develop a palate to enjoy the raw fish. It is also very important to eat sushi at right place and perhaps guppy is the only place that got me into enjoying these delicacies.
Japanese cuisines are expensive compared to other cuisines as the ingredients are imported from Japan and other parts of the world. Japanese are very fond of eating rice as well as variety of fishes.  I was expecting some really nice dishes along with their signature dishes for the review.
A Great Day – A Great Conversation:
I am a huge fan of Chef Vikram Khatri as,not only he serves most amazing Japanese food in town, but also explains in describing each dish that invikes interest, inculcates liking and you end up appreciating the texture as well as flavor!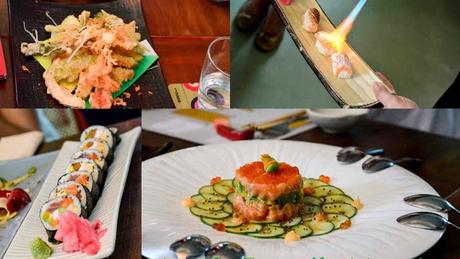 The Changes, the Essence, the Future:
Hanami is Japanese traditional custom and literally means viewing flowers. People love viewing cherry blossoms and celebrate with drinks and food. It's like picnic under the tree where people bring home cook food and then celebrate.

The most popular kind of Japanese cherry (sakura) tree which can be found everywhere in Japan is somei-yoshino (Yedoensis). Sakura trees bloom at different times throughout Japan, and the blooming period of somei-yoshino is usually short.
The Gusto food and My Take: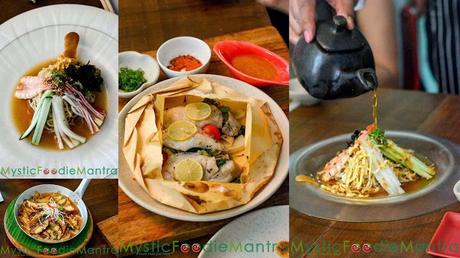 It was time to celebrate hanami festival and the new spring summer menu at Guppy. I was as usual excited and was looking forward to it.
Sakura Wood Smoked Pumpkin Soup
– soup had strong Smokey flavor of sakura wood and it was rich and thick and sweet in taste. It was a great way to start the meal – An excellent soup!
Edamame  -
also known as soyabean in japan was steamed and sautéed. I enjoyed munching edamame.
Tofu and Water Chestnut Motoyaki
and Assorted Vegetable Tempura both were excellent and is great dish for vegetarian people.
Sakura Wood Smoked Yellowtail
– one of the most expensive fish smoked with sakura wood and topped with soy and fermented yuzu paste. I would love to relish this once again!
Salmon tartar
– creamy and smooth marinated with avocado and served on the bed of cucumber was an excellent dish both visually and tastefully
Hiyashi Chukka Chilled Ramen Noodle – P
opular summer dish in japan served with prawns, crab on chilled raman noodle with sesame flavored soya broth – Amazing and incredibly delicious!
Parchment Baked Market Fish –
this was certainly the star of the day. Nicely baked with lemon on top. Excellent fish served with house made Yuzu sake glaze.
I was bowled over by the curry which I ate in main course   - chicken katsu curry rice. It's also known as katsu kare which is traditionally served with breaded pork curry and rice. It is believed that Japanese learnt the art of  making curry, when Netaji Subhash Chandra went to japan and took along his cook to prepare indian curries
We finished our meal with Macha Pudding -  green tea pudding topped with home made coffee sauce and Daifoku traditional Japanese desert also know as mocha(
glutinous rice cake) stuffed with sweet filling and topped with cherry glaze.Sinful.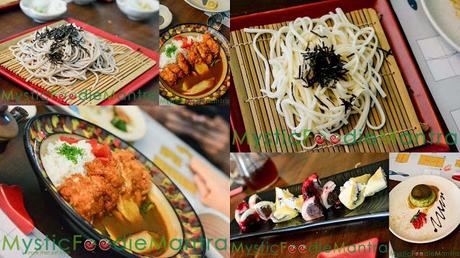 Verdict
In short, one of the finest Japanese places in town and Chef Vikram Khatri is one of the best chef I have come across. You should simply visit and gorge on to know more!
Disclaimer - This review was done on an invitation from the establishment. Views expressed in the review is entirely ours and without any bias. Pictures of the dishes are not the standard portions, they are sample portions.