Guppy by ai comes out with a brilliant Hanami Summer Menuand what's in store in this menu is something completely different from the summer menus of other restaurants. It focuses on cool vibes to beat the heat, on fresh ingredients and vibrant colours, on well-balanced food with crunch, crisp and surprise- summing up an immaculate menu of beautiful dishes. Expect to treat yourself with some out of the box dishes and food that leaves you awestruck.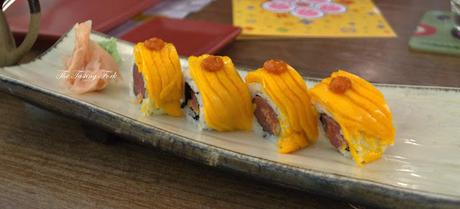 The summer menu saw a masterclass with Chef Vikram Khatri before that. Everything from cleaning the rice and cooking it, the technique of rolling rice balls in your hands, spreading them out, using the seaweed for wrapping around sushi, the stuffing of veggies and fish, rolling the sushi, use of sauces, was taught to us in this masterclass. Chef made three different types of sushis for us as demonstrations in the class, and we watched like little fascinated kids. We made both maki and uramaki, and it was then our turn to make the sushis. Made a total of 3 sushis and made both maki and uramaki, and earned ourselves a certificate that makes us trained sushi lovers who can also manage to cook it (to put it in simple words). These sushi masterclasses with Chef Vikram are held regularly at Guppy, and whoever wants to get the knack of sushi making should put a blindfold on their eyes and go for this without any second thoughts!! It's the best sushi class you will find with the most amazing hands-on practice too.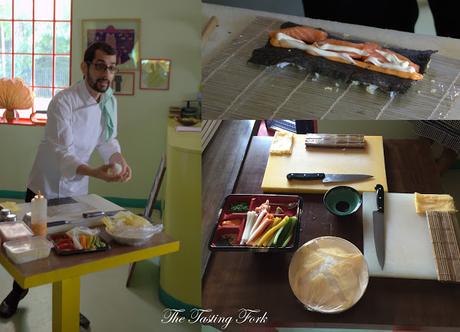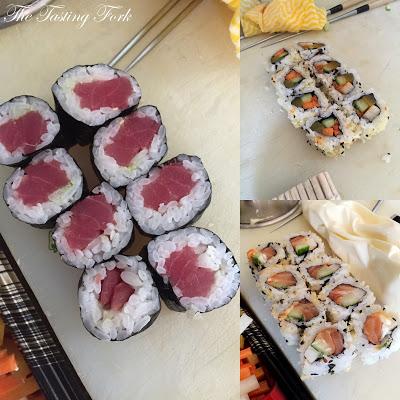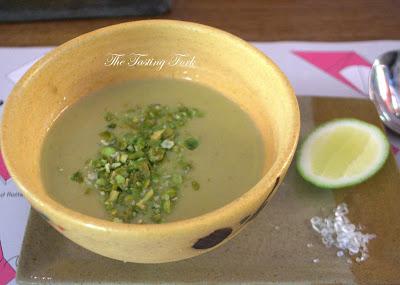 The summer menu started off with
Corn and Avocado Soup
. A chilled soup with such amazing flavours of avocado. A pinch of wasabi is what the menu says you get, and that you do, but the real dimensions of the soup change with a few drops of lemon in it. The real surprise- it's a chilled soup!! There are a few salads on the menu, out of which the
3 Melon Salad
is my favourite! Being a sucker for watermelon, this one has watermelon and muskmelon with a stupendous plum dressing on the side. Pour that over the salad and you just go- WOW! The presentation too makes you smile. The
Smoked Pumpkin Salad
shines bright because of the delicious miso-mustard dressing. It just binds everything together- and the elements are a lot! Very fresh.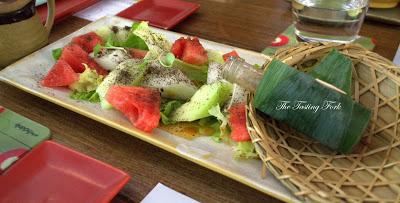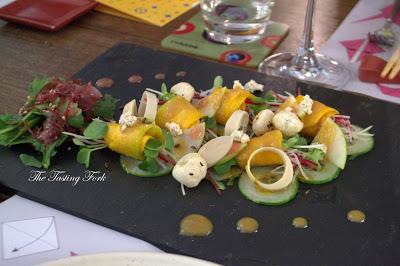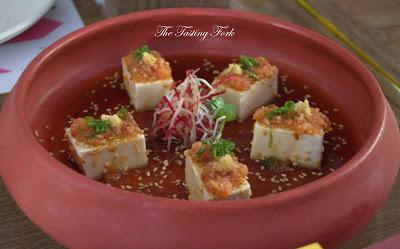 The Hiyayaki Chilled Tofu, as the name suggests, is a chilled dish with the tofu not being the silken tofu, and the flavor being dominated by ginger and citrus-soy. Soy lovers are going to love this one; it's like you can swim in the soy and ginger amalgamation. Too good!
There's a fair range of sushi in the summer menu, and the most inspiring one for sushi places across Delhi should be the Mango and Tuna Roll. It's mango all the way in this one. A person can only imagine how mango would taste in a sushi, but you need to come to Guppy and try this beauty to know how Alphonso mangoes are bringing out the best of the best these summers!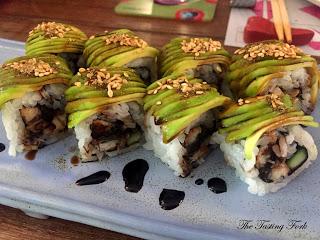 The
Eel and Avocado Sushi Roll
is another winner for me, but the gigantic delicious
Hanami Roll
is really what takes the cake away. You get everything in this huge sushi- tuna, salmon, crab, cucumber, yellowtail, black rice and white rice. You don't even need to focus on your favorite fish here, you just get everything!! Dip it in a little soy sauce and wasabi and you're good to be in a food coma.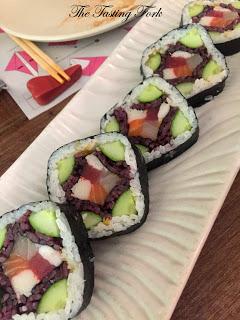 You will also find sashimi in this menu. Sashimi Scallop Carpaccio with Mentaiko Cod Roe. Melts in the mouth!
The main courses are all served chilled. You have meals in a bowls that are so hearty and with so many things in them that you just feel like a spoilt customer. My favorite is a tough choice between Cold Hiyashi Tantanmen which had ramen noodles in a pork broth with pork meat and veggies, and the Hiyashi Samen- Japanese thin angle wheat noodles with cucumber, crab sticks prawn, seaweed, in a ginger flavoured broth. The ramen was loaded with flavor and tasted lovely with the babycorn and corn kernels, and the wheat noodles were amazing with a mix of seafood. It's a tough choice to make, but both are exemplary. I didn't like the vegetarian main course option much- Hiyashi Tanuki Cha Soba, which were buckweak noodles in a soy flavoured broth, tempura fritters and grated radish. A little less flavoured than the non vegetarian options.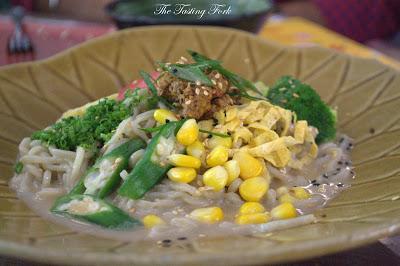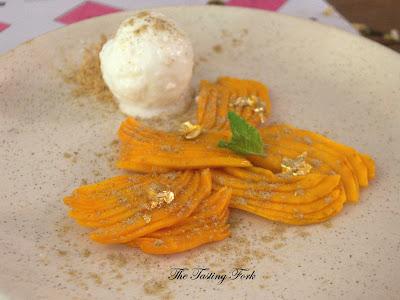 Dessert in this menu is a very simple, no fuss plate of Mango, Liquorice and Coconut Ice-cream. Alphonso mangoes with coconut ice-cream, sprinkled with pepper dust (I mean wow!), and with liquorice and sansho which is a Japanese pepper. I hate anything to do with coconut, but this ice cream was nothing like I'd ever tasted before if I try and recollect the last time I had a coconut flavoured ice-cream. This wasn't too sweet with a coconut smell and a weird coconut oil taste, it had coconut in the texture, which was really good. And the pepper dust with Alphonso mangoes took away all my apprehensions about the ice-cream when it was all eaten together. A lovely dessert without any fuss created. Simple and beautiful.
The Hanami Cocktail Menu had a decent variety to choose from, and all very fresh. Sendai- a kiwi based cocktail with melons, lime and vodka, was a treat for a kiwi lover like me. The Cucumber Cooler was as refreshing as a drink could get. Fresh cucumber with sugar, thyme and lime. Not too sweet, it's bent more on the refreshing side than the sugary one.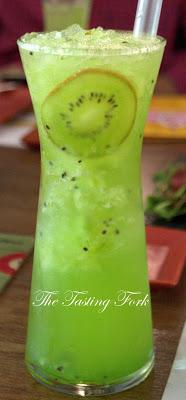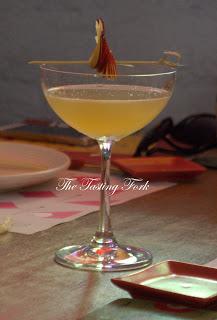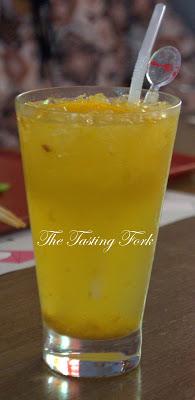 The menu is dominated by dishes served chilled, it is curated behind the logic that says summers don't call for hearty food which is served hot, and I completely dig that. Your appetite vanishes with hot food, your body doesn't agree with hot food and you don't even feel like eating a lot of heavy stuff in summers. At a time like this when the temperature's close to hitting 50 degrees, Guppy really gives you a sigh of relief with this menu. Enjoy your salads and sushis, your main courses and soups, and leave the restaurant with a happy stomach. Chef Vikram has once again told you why Guppy is a front-runner when it comes to Japanese cuisine in Delhi.
Contact: 01124690005
Address: 28, Main Market, Lodhi Colony, New Delhi
Timings: 12 Noon to 3:30 PM, 7PM to 1AM
Connect with me on:
Twitter: 

@sahibagursahane
Instagram: 

@thetastingfork
Facebook: 

www.facebook.com/thetastingfork
Snapchat: thetastingfork
Disclaimer: The review was done on an invitation from the establishment. All views expressed belong entirely to me and are completely unbiased in nature. However, readers may exercise their own discretion.