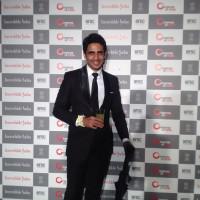 Back home from Cannes, Gulshan caught up with MovieRoundup and shared his experience of working in the forthcoming, Cannes-nominated 'Peddlers' directed by Vasan Bala. Not only is Gulshan happy to be part of the team behind Peddlers, 'I'm blessed', opined the 'Shaitain' star.
MR: Tell us about your experience working in 'Peddlers'?
Gulshan: Vasan bala (the director of peddlers) came to me with the concept whilst I was still shooting shaitan; I immediately connected and agreed to do it. It took a while since then to actually get this film from paper to print. I really admire and love vasan and our chemistry is remarkable. I trust him and he trusts me completely. Peddlers is a work of love, love vasan has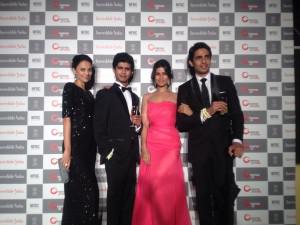 towards his craft and the love that each cast member, crew and producer had for him. We were there for each other and only that love made this film possible even with many things going against it. I've never really wanted to do something so badly, but I really wanted to do this film. The cast was carefully handpicked. The crew mostly worked for free and the schedule was tough and the budget tight. It was a super challenge and that was fun. "Pacchas paise ka ek rupiya dikhana tha". Almost all the scenes were devised by us actors hence the careful picking of actor's .Siddharth, nimrat, and kriti were so fresh and wonderful to work with. It is a special movie for me and from my point of view it's my best work so far.
MR: Yet again you're character in Peddlers has its share of good and maniacal side? How challenging is playing such roles?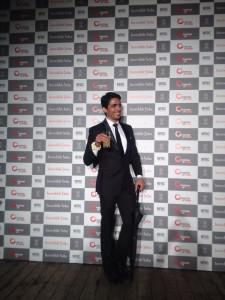 Gulshan: There is white and there is black and infinite shades of grey in-between… you never run out of grey. Grey is the colour of humans. Each of us have a grey shade to us and each a different one too. I took about two weeks to prepare for the role of ranjit d'souza … well I always take the time to prepare .ranjit is much quieter than my other roles and  I wanted to play around with silent moments , moments where there is stillness, no dialogue . I did not want to use dialogue as a crutch to improvise a scene; I wanted everything to communicate something about ranjit and his state of mind. Well staying focused is particularly challenging whilst shooting outdoors amongst a crowd… too many distractions …also we could afford to hire locations only for short periods of time and I did not want to waste time with retakes… absolute focus and concentration was required and this is easier said than done . It was very hard and mentally exhausting … very tiring. The challenge was the fun and I knew exactly what I was getting into and what I had to do.
MR: Did you anticipate that 'Peddlers' will make it to Cannes? What do you think made the film 'Cannes' material?
Gulshan: Yes actually I had a gut feeling and I have these gut feelings now and then … I remember telling vasan that we will make it. So no surprises there

 It's such an honest film and the narrative is brave and stays away from filmy clichés. Plus it's made with heart. Its Vasan's film that's why:)  I do not have the knowledge or the resources to comment on the competitive section but I guess good, honest ,content driven films with good production value and good performances should do well at Cannes

MR: How was it competing with other Indian films at Cannes?
Gulshan: Well actually in the section we were nomiated, we were the only Indian film (critiques week) So I guess there was no competition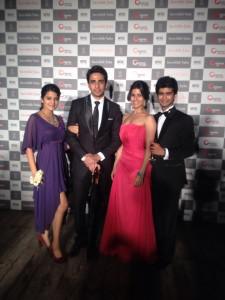 MR: Your best film at Cannes and why? (Besides you're film)
Gulshan: Gangs of Wasseypur part 1 and 2….. Because it's awesome. Epic. Breathtaking performances by the leading cast particularly Nawazuddin Siddique and Richa Chadda. They make me cry because they are so good.
MR: What according to you is one Indian film which deserved but didn't make it to Cannes?
Gulshan: Cannes also has a trade section so apart from the competitive sections one can have paid screenings for marketing reasons too, that way who ever can afford is deserving

. hmmm nothing comes to my mind in terms of deserving films , am sure there are and i am no expert

but also one has to apply for a spot and there is a selection process but I am sure many deserving Indian films( across all languages) might go unnoticed because they did not apply .
MR: What's after Peddlers? How do you plan to surprise us?
Gulshan: Mini crime series for TV. How's that???? Yes that and much more to come:) uuf very busy year ahead. Bruce lee once said "the best style is no style".