Gulab jamun is an ever famous Indian dessert made form Khova/khoya/mawa,prepared by evaporating the milk for hours together in low flame.The khova is mixed with few other ingredients,shaped into balls and deep fried in ghee/oil.The deep fried balls are then dunked into the flavored arm sugar syrup to make an ever sinful dessert.Sure it is a time consuming recipe and requires loads of time.But with perseverance and patience mastering any skill is possible and so is the art of making gulab jamun (or any other recipe with a reputation for being complicated). There are some easy methods of making this dessert,simplest being getting a gulab jamun mix,next is a recipr using milk powder and other one being using condensed milk.Some places potato gulab jamuns are very famous too.But the most authentic and the traditional way of making this dessert is using khova.Here is a recipe for the authentic gulab jamun.Next make sure you have enough time in hand and proceed with the recipe and you are sure to get tasty melt in mouth gulab jamuns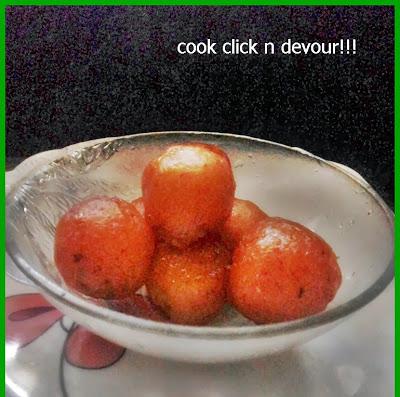 Gulab jamun
Star ingredient :Khova/khoya/mawa(Milk evaporated for quite some time)
Time:1 1/2 hours(For the mentioned quantity)
Yield:40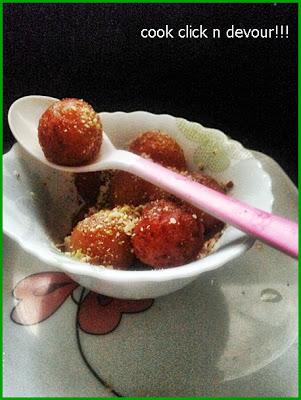 Ingredients:
1 1/2 Khova (From 1 lt milk)
1/2 cup all purpose flour
2 big pinches baking powder
A small pinch salt
4 table spoons water/milk
For sugar syrup
3 cups sugar
2 cups water
A pinch camphor
Few strands saffron
1/2 teaspoon cardamom powder
Oil+ghee for deep frying
Method:
Preparation of khova/mawa
Bring milk to a boil in a wide non stick pan and lower the flame.Keep stirring scraping the sides.This takes nearly 45-50 minutes and needs your full attention.Scarping the sides from time to time is very important,those milk solids settling in the sides of the pan are the main part of khova.After minutes you will get khova as seen in the picture.The color and texture of khova largely depends on the quality of milk you use.Use milk with highest fat quantity available.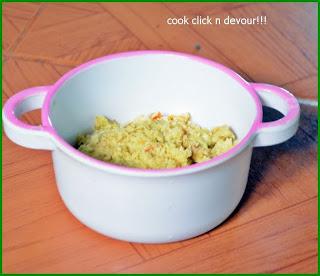 Next is the preparation of sugar syrup for gulab jamun
Add 3 cups of sugar to cups of water and mix well.Heat it on low-medium flame till the sugar dissolves completely and begins to thicken very slightly.We are not aiming at any string consistency just a little sticky syrup.Add camphor,saffron and cardamom powder and remove from flame.Let the syrup cool a bit.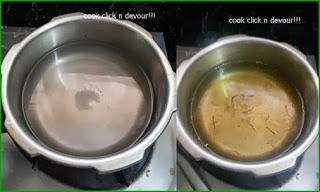 Making of gulab jamuns
1.Take the khova,all purpose flour,baking powder and salt.Crumble the khova completely so that it incorporates with all purpose flour.Add water little by little and form a smooth dough.Don't add too much water,the dough should be very soft and elastic.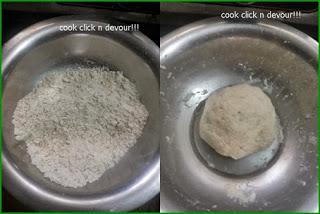 2.Heat oil+ghee for deep frying and let us make gulab jamun balls while oil is heating.
3.Make small ping pong sized balls out of the dough,as shown in the picture.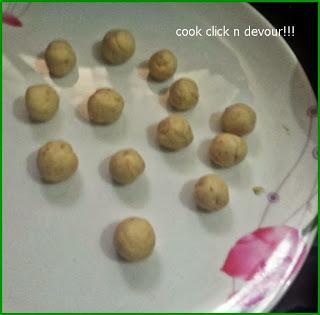 4.Add the balls to the hot oil and deep fry till almost dark golden.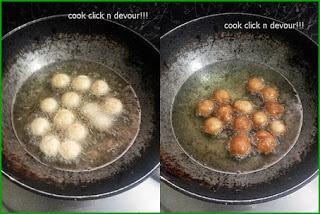 5.Remove the fried balls and drop in the sugar syrup at once.Repeat the same with all the balls.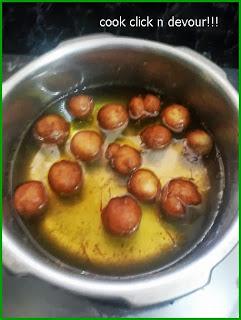 6.While serving take required amount of gulab jamuns in a bowl.pour some sugar syrup and garnish with shredded pistachios-almonds.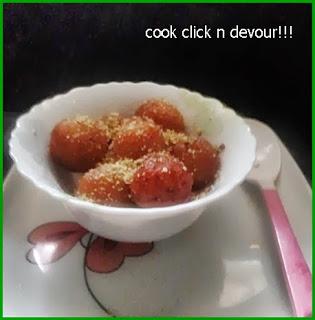 Notes:
1.Roll the balls very tight applying pressure and make the balls as smooth as possible with out any cracks,else they will break when dropped in hot oil.
2.The sugar syrup should not be very hot as that will also cause gulab jamuns to break.The sugar syrup should be just warm so that the balls will soak in.
3.Do not make larger balls as they will considerably increase in size when getting fried.
4.Always keep the flame in low while frying else the balls will brown from outside and not cooked inside.
5.Serving hot gulab jamuns with scoop of vanilla ice cream is a classic combination
`