Good morning!
Just a quick note from me about the giveaway in case you've missed it on facebook:
Our 100 followers giveaway has officially ended!
The response has been overwhelming and we thank you for all your support! ♥
Please bear with us for a few days while we validate all the entries. We promise we will have the winners out by latest next week. So stay tuned!
Meanwhile, we'll leave you with another pretty mani by our friend, Cheryl. Enjoy~
xoxo,
mich
--------------------------------------------------------------
Hello girlies!
I am back with my second guest post here! It's really nice of Mich and Jayo to be so encouraging about my blog-writing even though I'm really inexperienced at this! Today, I would like to share with you girls one of my latest haul items – Zoya's Jem from its 2011 Smokes and Mirrors Collection. Do pardon the slightly duller photos for this post though! My brother has taken our camera away with him for a camp and I had to resort to using our trusty old compact camera for this post.
Here is Zoya's Jem, shown layered with China Glaze's Fairy Dust. Jem is a dark purple polish that is loaded with lots of pretty shimmer. It gives off a really sophisticated vibe when worn on its own. But, to make things more interesting, I topped it off with a thin layer of Fairy Dust. This holographic top coat is really amazing and easily breathes new life into old manicures. I have pretty much been using this when I get tired of my nail colours, but have no time to change them completely. Applying Fairy Dust over Jem just makes my nails look like some part of the cosmic universe. It's really gorgeous!
The photos here don't do the polish justice though! It's really difficult to accurately capture the glitters in photo. Therefore, I have included an out of focus shot in addition to the regular photos to give an idea of how truly beautiful the glitters are in real life! Hope you girls will enjoy these swatches!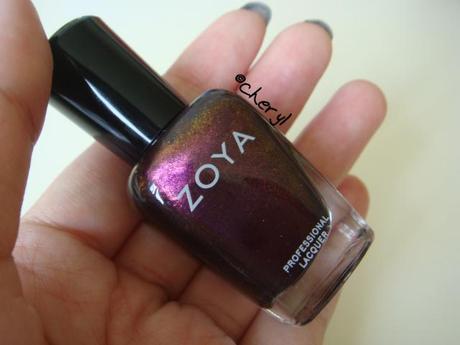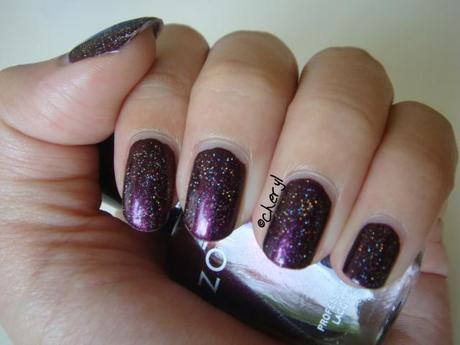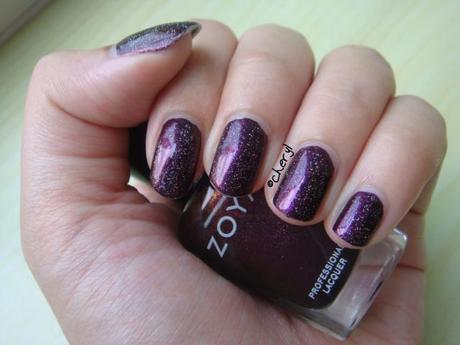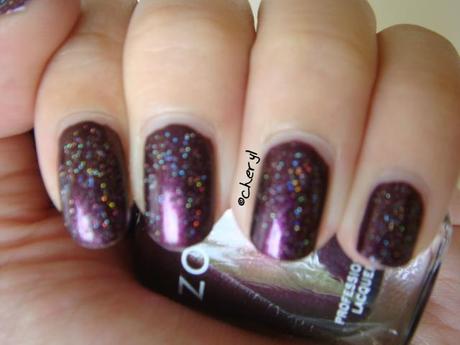 Cheryl