The best outdoor activities for 2012
Keeping the kids entertained during the summer holidays can seem impossible, especially when they are getting older and want to take on more adventurous activities. However, there are plenty of exciting activities that the whole family can enjoy, whilst making the most of being outdoors.
Zorbing
For a unique adrenaline rush, there is nothing better than zorbing, or sphering, as it is also known. Participants are strapped securely inside a giant inflatable ball, and rolled down a hill at up to 30mph. Zorbing is available in many scenic locations throughout the country. Due to the speeds involved, this activity is only normally suitable for those over the age of 11. It is a good idea to wear clothing that protects the shoulders and neck from the harness, and also socks - jewelry must not be worn.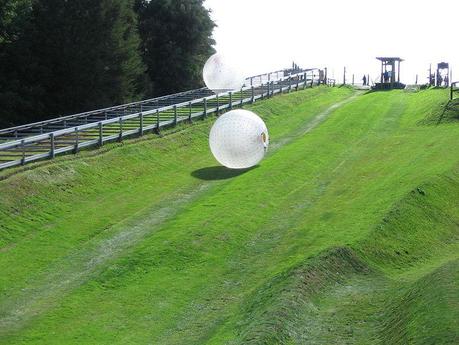 Quad biking
The best activity for the competitive family, quad biking gives riders the chance to skid and tear around on a four-wheeled bike between trees, through mud, and over bumpy terrain. There are countless different providers to choose from, each with their own unique tracks and landscapes. The minimum age for quad biking is usually 12, and it is advisable to wear old clothing that covers the arms and legs. All good venues provide protective wear such as pads and helmets.
Paintballing
A great activity that encourages teamwork is paintballing, in which the whole family can compete with the rest of their team against another team, in a range of army-style missions. Paintballing is usually carried out in woodland or other muddy terrain, therefore waterproof shoes and thick waterproof clothes with plenty of padding are a good idea. Most venues offer body armour, which should be worn to prevent bruising. Players usually have to be over the age of 10.
Tree top adventure
Tree top adventures, such as Go Ape, offer high wire adventure courses that feature swings, rope ladders, rope bridges, zip-lines and trapezes. They are perfect for encouraging a family's sense of adventure. Go Ape is suitable for adults and children over the age of 10, as long as they are over 1.4m in height. Participants should wear old clothes that cover their stomach, and closed toe shoes. Long hair should be tied back, and thin gloves may be helpful.
Garden activities
Although high-adrenaline activities can be fun, they are not suitable for all families due to age restrictions. A classic way to have fun is at home, in the garden. The whole family can take part in activities such as football, tennis, garden maintenance, growing vegetables, water play, and outdoor board games, and can then relax on

outdoor furniture

while a delicious BBQ is cooking. Fun in the garden will always feature in the top five outdoor activities for families – there is nothing better than spending quality time together doing simple activities which the whole family will enjoy. Extended family members can also be invited for an extra special day outdoors.